Trump presses big pharma to increase US production & cut drug prices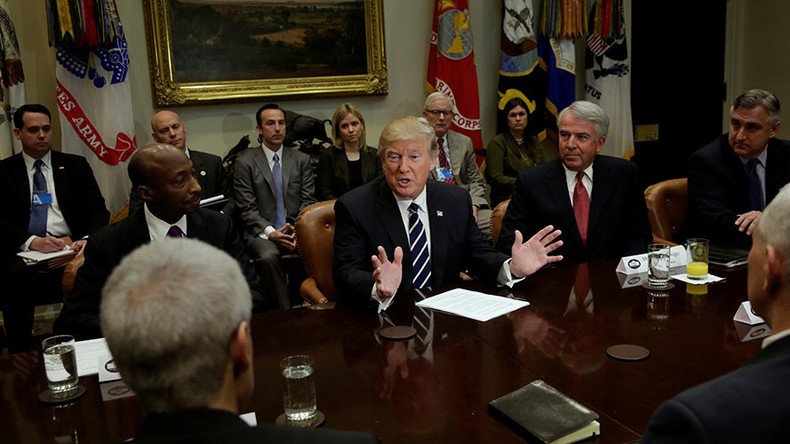 US President Donald Trump met with leaders of the pharmaceutical industry on Tuesday, calling on them to bring production back to the United States, promising to cut corporate taxes and reduce regulation.
Meeting in the Oval Office with the big pharma executives from Amgen, Johnson & Johnson, Merck, Celgene, Eli Lilly, and Novartis, Trump said they had done a "terrific job over the years" but that prices for drugs must come down.
"So you have to get your companies back here. We have to make products... We have to get rid of a tremendous number of regulations," he said.
The president pointed out that competition in the drug market had dissipated, thanks to sluggish approval prices and an overbearing regulatory system. Trump vowed to lower the costs of prescription drugs in the country by increasing competition.
He also said foreign countries should pay a fair share of drug development costs. "We're going to end global freeloading," he said.
Trump told reporters that he would oppose roadblocks making it harder for smaller drug companies to compete with larger ones.
"I'll oppose anything that makes it harder for smaller, younger companies to take the risk of bringing a product to a vibrantly competitive market," he said. "That includes price fixing by the biggest dog in the market, Medicare, which is what's happening."
READ MORE: Trump tells biggest US automakers to bring production back to America

Trump has also promised he would soon appoint a new head of the US Food and Drug Administration (FDA).
"We have a fantastic person that I think I'll be naming fairly soon who's going to streamline the FDA and you'll get your products either approved or not approved, but it'll be a quick process," he said. "It won't take 15 years."
According to Reuters, the pharma execs said after the meeting they were encouraged by Trump's focus on innovation, tax reform and the need for a more value-driven health care system.
The Pharmaceutical Research and Manufacturers of America (PhRMA) lobbying group which was also present at the meeting with Trump said in a statement that if enacted the policies would result in up to 350,000 new jobs over the next 10 years.
Pharma stocks were trading higher following the president's comments about the drug industry. The Nasdaq Biotech Index was up almost three percent on Wednesday, and the S&P 500 healthcare index gained 1.41 percent.
You can share this story on social media: