Chinese exports fall most since 2009 amid fears of US trade war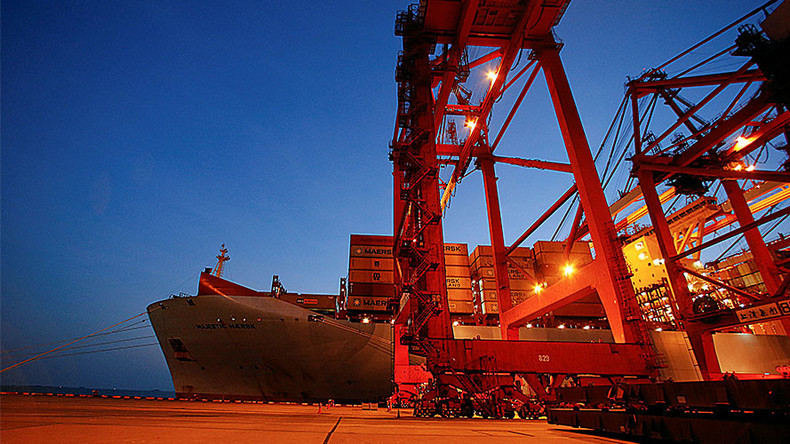 The world's largest exporter, China, faces more challenges and uncertainties this year due to persistently weak global demand and rising concerns of a possible trade war with the United States.
The country posted gloomy trade data on Friday with the biggest drop in exports in eight years.
Chinese exports for 2016 fell 7.7 percent year-on-year which was the second annual decline in a row. Imports fell 5.5 percent. The country had a trade surplus of $509.96 billion. In yuan terms, 2016 exports dropped 2 percent, while imports picked up 0.6 percent.
December exports fell by a more-than-expected 6.1 percent year-on-year while imports were slightly above forecasts, growing 3.1 percent on high demand for commodities.
China reported a trade surplus of $40.82 billion for December, down from the previous month's $44.61 billion.
The country imported record amounts of crude oil, iron ore, copper and soybeans last year in addition to large volumes of coal.
China's customs agency said it would be tough for foreign trade to improve this year, especially if the inauguration of US President-elect Donald Trump and other significant political changes limit the growth of Chinese exports due to greater protectionist measures.
"The trend of anti-globalization is becoming increasingly evident, and China is the biggest victim of this trend," customs spokesman Huang Songping said, adding that Beijing will closely monitor US trade policy after Trump's inauguration.
During his election campaign, Trump labeled Beijing a currency manipulator, accusing the country of using the yuan as a way to give Chinese exports an advantage over US-made goods. He threatened to slap tariffs of up to 45 percent on Chinese imports.
READ MORE: US may lodge WTO complaint against China over aluminum exports
On Wednesday, Trump said trade relations with Beijing would be a top priority, pledging to reduce the trade imbalance between the US and China.
Analysts say it will be soon clear if Trump follows through with his campaign promises after he takes office on January 20. They add that even if the Trump administration takes no concrete action immediately, the specter of deteriorating US-China trade and political ties is likely to weigh on the confidence of exporters and investors worldwide.
You can share this story on social media: