Toshiba stock nosedives amid rating cuts & billions in losses warning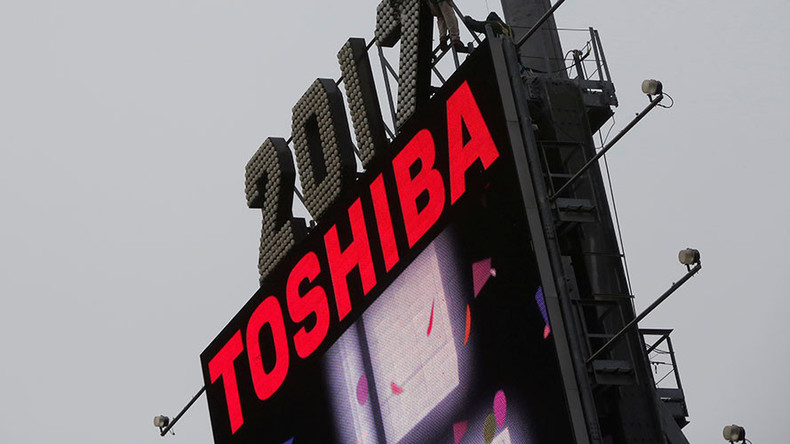 Shares of Japanese multinational Toshiba extended declines for the third consecutive day, having lost nearly half their value during this week's trading on the Tokyo stock exchange.
The stock continued to plunge on Thursday after the corporation announced it may write down billions of dollars in losses because of its takeover of a US nuclear construction firm.
Westinghouse had warned that its subsidiary's costs of nuclear reactor projects in the US had greatly surpassed estimates.
"We're still figuring out the exact numbers, but it could reach up to several hundred billion yen," Toshiba CEO Satoshi Tsunakawa said earlier this week.
This week's bad news compounded Toshiba's problems. The company is still recovering from a $1.2 billion accounting scandal in which Toshiba admitted it had been doctoring financial results for years. Last year, the Japanese conglomerate reported a loss of $3.9 billion.
Moody's pushed Toshiba further into 'junk,' or non-investment grade territory, lowering its rating to CAA1 on Wednesday. S&P Global Ratings downgraded the company's long-term corporate credit to B- from B and senior unsecured debt ratings to B+ from BB-, putting the firm on negative watch.
"The downgrade of Toshiba's ratings principally reflects Moody's deepening concerns over the sustainability of Toshiba's near-term liquidity. The impairment loss could further lead to a breach of Toshiba's bank debt financial covenants," said Masako Kuwahara, a Moody's senior analyst, as quoted by Bloomberg.
Toshiba-owned Westinghouse Electric implemented a deal to acquire US-based nuclear construction company CB&I Stone & Webster in January.
According to Westinghouse, the potential write-down will exceed initial estimates of $87 million, potentially running into billions. This was due to cost overruns incurred by CB&I Stone & Webster.
READ MORE: Toshiba unveils Fukushima spent nuclear fuel removal robot (VIDEO)

The exact losses from the acquisition will be revealed next March, at the end of the company's accounting year. The final amount has not been calculated.
Toshiba's market value has fallen to 800 billion yen ($6.8 billion) within the week.
You can share this story on social media: