Toshiba unveils Fukushima spent nuclear fuel removal robot (VIDEO)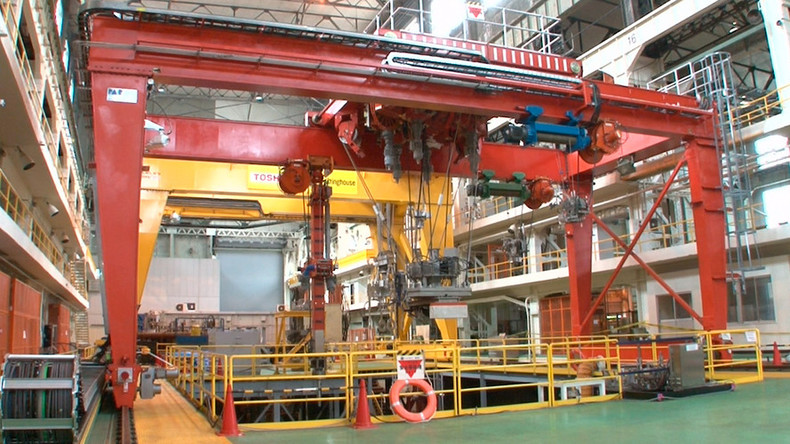 Tech giant Toshiba has unveiled a remote-controlled robot especially designed to remove nuclear fuel rods from the highly-contaminated Reactor 3 building at the crippled Fukushima plant.
The task of the new remotely operated Fuel Removal System (FRS) is to get rid of the debris as well as some 566 fuel rods from the spent fuel pool (SFP) of Fukushima Daiichi Nuclear Power Station Unit 3.
"In order to return Unit 3 to a stable condition, it is necessary to first remove the debris and then all of the fuel," the company said in a statement. "The FRS ... is designed ... to place fuels in a Transfer Vessel (TV) that can be securely sealed. Once that is done, the FRS will lift the TV to an above-ground floor of the reactor building, for transportation to a temporary storage site."
At the time of the plant's nuclear meltdown, which happened in the wake of a massive tsunami in March 2011, hundreds of fuel rods were being held in pools at the site. Workers cleared the pool at the Number 4 building, but fuel rods remain inside the highly-contaminated Reactor 3 and other buildings. Cleanup crew workers cannot enter these facilities due to deadly levels of radiation.
That is where the Toshiba creation will come in handy. The FRS boasts crane-like arms that will remove bundles of fuel rods from the cooling pool after being deployed inside the contaminated building.
One of the arms of the FRS was developed to pick up and cut the debris, while the other arm was designed to steadily grab and remove fuel assemblies. The same arms will be used to place the contaminated material into the transfer containers.
Furthermore, the robotic unit also features a crane for lifting the TVs, closing their lids and placing them on the ground level. The entire process will be done remotely with the help of numerous cams attached to the robotic unit.
Toshiba says that final testing and training operators to use the remote-control crane-like device will take time, so the removal of debris and fuel is scheduled to begin sometime in 2017. By deploying the FRS, Toshiba engineers hope to reduce the radiation level inside the reactor to 1 millisievert per hour.
You can share this story on social media: