Toshiba cuts executive salaries as $1.2bn accounting scandal widens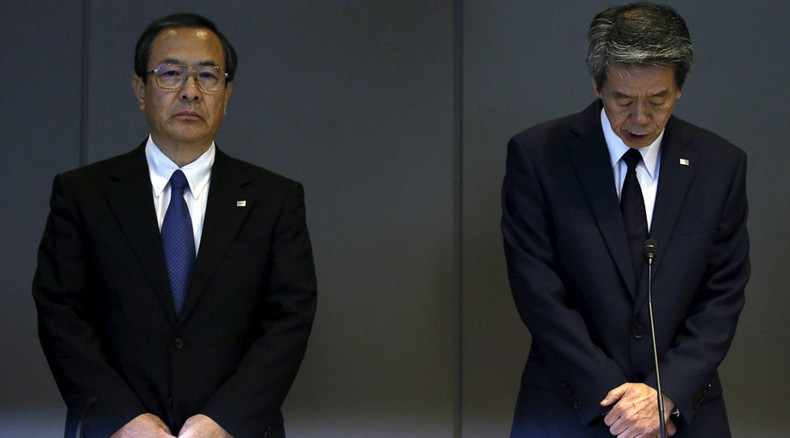 Toshiba is to cut its interim chief executive's salary for the next two months by 90 percent, as the ninth member of the 16-seat executive board resigns. Last week an investigation showed the company had been overstating its profits.
The company said on Wednesday it would cut Masashi Muromachi's monthly salary by another 50 percent after an earlier 40 percent reduction.
Another bold step made Wednesday was the resignation of Masaaki Oosumi, an executive who was in charge of Toshiba's visual products division, says the Financial Times.
"The management and employees will unite to restore the confidence of all stakeholders. We will do our utmost for the revival of the Toshiba group," Muromachi said to the members of the new panel that would supervise the accounting irregularities estimated at $1.22 billion.
Earlier this month it became public Muromachi didn't want to take over as interim CEO, but was thinking on leaving the company.
READ MORE: Toshiba CEO resigns over $1.2bn accounting scandal
"He told me he wanted to resign, but as a Toshiba adviser, I begged him not to step down," said Taizo Nishimuro, president of Japan Post Holdings and a former Toshiba president, adding that Muromachi's leadership was needed.
Toshiba is also going to hire more independent directors, including lawyers and accountants, Reuters says.
Last week Toshiba president Hisao Tanaka and vice chairman Norio Sasaki along with six other executives stepped down after the findings of an independent investigation found top management was well-aware of the accounting irregularities and, moreover, was fostering them.
The company is presumably going to sell some of its assets worth $1.62 billion, including a stake in Westinghouse Electric.
With more than a half of the board leaving it could be hard for Toshiba to tackle the crisis.
"Some of the most capable managers at Toshiba resigned with this scandal. It's going to be difficult to find replacements," a source close to the top management told the FT.