Deutsche Bank agrees $7.2bn settlement with US govt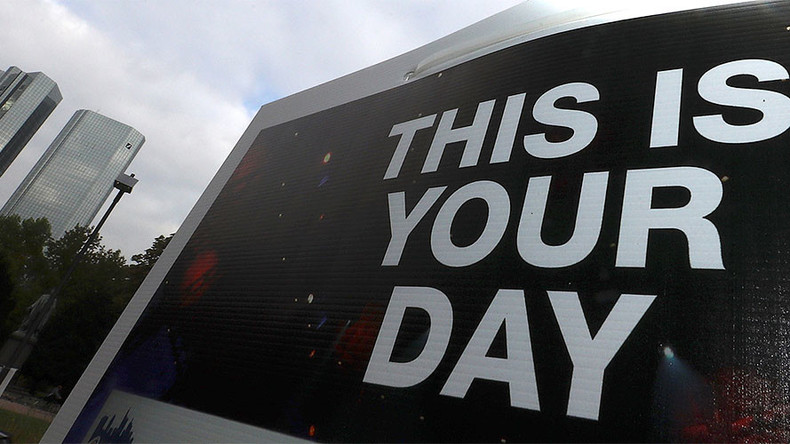 Shares of Deutsche Bank gained over two percent after the German bank reached an agreement with the US government over mortgage-backed securities sales. The $7.2 billion penalty is far lower that the $14 billion the US had initially demanded.
Under the settlement terms, Deutsche Bank will pay a $3.1 billion civil monetary penalty and provide $4.1 billion in consumer relief in the United States.
According to Deutsche, the agreement with the US is not final, and there could be no assurance the sides would agree on the final documentation.
"The financial consequences, if any, of the consumer relief, are subject to the final terms of the settlement, and are not currently expected to have a material impact on 2016 financial results," the bank said in a statement.
Deutsche is among several banks that have been subject to investigations in the US for allegedly giving mortgages to unqualified borrowers, then repackaging those loans as safe investments and selling the risk on to others. Those deals were agreed between 2005 and 2007 and contributed to the 2008 financial crisis.
The German bank still has to settle investigations over manipulations of foreign currency rates and precious metals prices. It also faces civil lawsuits related to claims that its traders manipulated key interbank interest rates.
READ MORE: Deutsche Bank wants to claw back bonuses from ex-CEO's

Deutsche Bank operates in 70 countries with 100,000 employees said in September it has set aside $6.2 billion. The bank is shedding about 15 percent of its workforce, disposing of its retail Postbank, and pulling out of other countries.
Another bank accused of selling toxic mortgage securities, Credit Suisse agreed on Friday to a $5.2 billion settlement with US authorities. It will pay a $2.4 billion penalty, and will also give consumers $2.8 billion in compensation over the next five years.
Other banks that have been ordered to pay penalties include Bank of America, Citigroup, JP Morgan Chase and Goldman Sachs.
In 2013, the Bank of America and JP Morgan settled record deals of $16.7 billion and $13 billion respectively. Goldman Sachs agreed to a $5.1 billion fine in January this year. Citigroup's $12 billion penalty has been reduced to $7 billion.