World's oldest bank launches share offer as Italy prepares possible bailout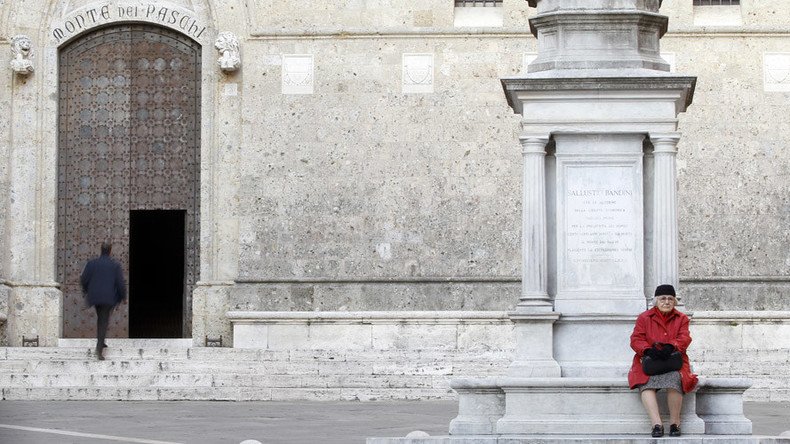 Troubled Italian bank Monte dei Paschi di Siena has started a share sale to raise cash to avoid a state rescue.
The world oldest lender needs to raise €5 billion by the end of the year to avert nationalization as it battles against €28 billion of non-performing loans. The share sale will last until Thursday with a debt-for-equity swap extended to retail investors.
Monte dei Paschi wants to find anchor investors to buy a significant chunk of the shares.
The bank has offered 35 percent of the shares to individual investors and 65 percent to institutions. Existing shareholders are being offered 30 per cent of shares reserved for retail investors before the sale is open to others, Bloomberg reports.
"Taking into consideration the risk profile and the limited period of time available to subscribe to the offer, we believe that the outcome of the deal will mainly depend on institutional investors' decisions, starting with sovereign funds," said Marco Sallustio a Milan-based analyst at ICBPI as quoted by the agency.
In case the plan doesn't work, the government is ready to earmark €15 billion by increasing public debt, to provide Monte dei Paschi and other ailing banks with state aid.
READ MORE: Rescue deal ready for Italy's Monte dei Paschi bank

According to EU banking rules, losses are covered by bondholders if taxpayer money is used to bail out the bank. Italian authorities have been considering a precautionary recapitalization of the country's third largest bank to keep bondholder losses down, according to people familiar with the matter.
Monte dei Paschi stock dropped nearly ten percent to €18.71 per share in early trading in Milan before paring losses to around seven percent at €19.31.
The bank's shares are down almost 86 percent for the year.
You can share this story on social media: