Iran officials: Russia's role in OPEC deal very important; oil will reach $65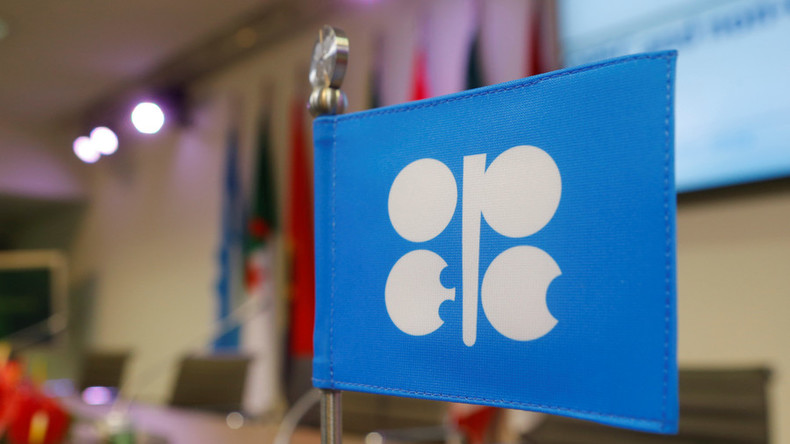 Moscow's successful mediation of a landmark OPEC deal to curb oil production demonstrates its determination to establish closer cooperation between OPEC and non-OPEC members, Ghadir Ghiafeh, vice chairman of the Iran-Russia Chamber of Commerce, told RT.
Speaking on the sidelines of the Russia-Iran Business Forum that took place in Tehran on Tuesday, Ghiafeh praised the agreement as "a very good result for OPEC and non-OPEC members," while crediting Russia with being the main driver behind the deal from outside OPEC.
Under the agreement, OPEC members will decrease their oil production by 1.2 million barrels per day (bpd) and Russia has pledged to slash oil output by 300,000 bdp, making the largest contribution of all the non-OPEC countries. Overall, 12 non-OPEC nations agreed to decrease production by 558,000 bpd in a bid to boost falling oil prices – the first such agreement since 2001.
"It's very useful for both of them [OPEC and non-OPEC members]," Ghiafeh said, noting that oil prices have been soaring since the deal's announcement.

"In the future, I think, the price will increase up to 60-65 dollars," he predicted.
Russia's role in making the deal possible, which has been widely reported, was welcomed by both Iran and Saudi Arabia, the main antagonists in the bloc.

"I think that Russia's role was very and is very important," Ghiafeh said, defining it as one of the "key" factors in sealing the deal. He also noted the personal contribution made by Russian President Vladimir Putin, who took on the role of mediator in talks with Iran as part of his "efforts to build new cooperation between OPEC and non-OPEC members."
"Yes, there was such a call, a telephone conversation between our presidents, and apart from other issues, there was an oil policy issue [the presidents discussed]," Ghiafeh said, adding that the conversation paved the way for an agreement that "we were not been able to reach for over a year."
Ghiafeh believes that all of the parties to the agreement will comply with the stated output goals, calling the deal the "only solution" for economies that are deeply dependent on oil, such as Qatar, Saudi Arabia, and Kuwait.
For its part, Iran is striving to decrease its dependence on oil and gas exports and diversify its economy by developing and investing in high technology.
S. Ahmadreza Alaei, Iran's acting deputy of international affairs, told RT that the "main goal" for Iran is to further "decrease the dependence of the budget on natural resources," which is at present "less than 25 percent in terms of budget."
The focus is on broadening the scope of scientific and technological cooperation between Iranian companies and foreign ones within Horizon 2020, an EU Research and Innovation program with some €80 billion of funding, as well as through direct cooperation with foreign countries.
Iran does not prioritize one country over another in terms of scientific cooperation, said Alaei, noting that "science has no borders" and Iran has been working with both Western countries and Russia, which is "one of [Iran's] good strategic partners" in this field.
Speaking of the damage that a hypothetical renewal of sanctions on Iran could do to such cooperation, Alaei said that Teharn is "not scared about having sanctions again" and, if they are imposed again, "they will have nothing to do" with the sphere of science and technology.
"Before the lifting of sanctions, we were doing a lot of cooperation in terms of scientific cooperation," he said, adding that Iranian companies have adjusted well to working under such circumstances.
The Russia-Iran Business Forum was organized by the Roscongress Foundation and backed by the Russia's Ministry of Economic Development, Ministry of Industry and Trade, and Ministry of Energy, among others. It was attended by Russian and Iranian business representatives, who gathered to discuss a wide range of issues, including mutual trade, economic and technical cooperation, and investment opportunities.
You can share this story on social media: