Bumper crop: Russia sees 40yr-high harvest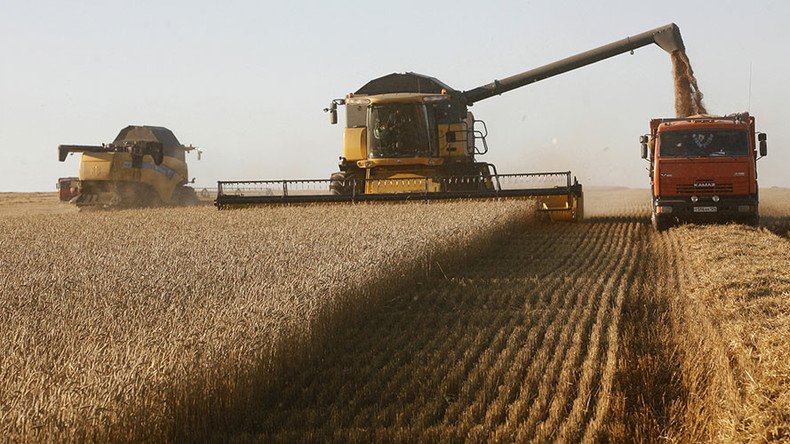 Russian Agriculture Minister Aleksandr Tkachev said on Tuesday the country's 2016 harvest of grain and leguminous crops is the highest since 1978.
"Russia harvested 117 million tons of grain this year, which is the best result for the last 38 years. The country's harvest was higher only in 1978, at 127 million tons," the minister said.
The result is better than projected as the Agriculture Ministry said earlier the grain harvest in Russia may be at least 110 million tons, or reach 113-116 million tons under good weather conditions.
READ MORE: Russia earns more from agriculture than arms sales
According to Tkachev, productivity has increased by 60 percent in recent years. He forecasts production of grain to grow by 25 percent over the next 15 years as a part of the strategic development of the cereals market.
In 2016-2017, Russia plans to export up to 35 million tons of grain, including 28 million tons of wheat, the ministry said.
Russia has significantly boosted its grain exports over the past two years, outpacing the world's biggest wheat exporters, Canada and the US. The country has resumed exports to Egypt, one of its biggest customers. Exports currently average 4-5 million tons a year and are expected to reach six million tons per year. Moscow and Cairo are also discussing Russian participation in the construction of grain infrastructure in Egypt.
Russia has also renewed grain deliveries to Iran. The shipments are reported to be at least 1.3 million tons per year.
Experts say the weak Russian ruble, favorable weather conditions as well as more investment will drive Russian agriculture forward.
You can share this story on social media: