Russia set for record grain production in 2016 - UN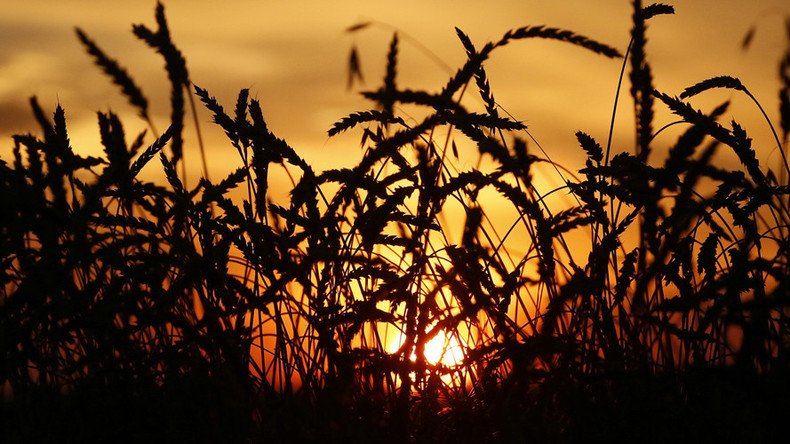 The UN's Food and Agriculture Organization (FAO) has raised its forecast for this year's global cereal production to over two billion tons, and is projecting a record harvest for Russia.
"This month's upward revision rests on improved crop prospects in the EU, the Russian Federation (where a record crop is expected) and the United States, owing to favorable weather," the FAO reported, adding that bigger harvests are also expected in China and India, while dry conditions dampened the outlook for Turkey.
The forecast for global production is 0.6 percent (or 15.3 million tons) higher than the 2015 estimate and above the FAO's June projections.
According to the report, "world wheat production is now pegged at 732 million tons, 8 million tons higher than anticipated in June, but still slightly below the 2015 record."
Forecasts of global rice production in 2016 have been increased by 0.8 million tons since last month to 495.2 million tons.
Russia produced almost 105 million tons of cereal last year and plans to increase production to over 111 million tons by 2017, according to the agriculture ministry.
READ MORE: Putin wants Russia to become world's biggest exporter of Non-GMO food
The ministry is predicting grain production to grow by 25 percent over the next fifteen years to 130 million tons as a part of the strategic development of the cereals market.
The areas planted with grain are to be expanded, with cropped fields expected to increase to 49 million hectares (490,000 sq km) from the current 46 million.
The government expects to spend 2.9 trillion rubles ($38.2 billion) in the next 15 years with private investors providing another 3.1 trillion rubles ($40.8 billion).
Russian agriculture could become the country's second biggest export after energy, according to Agriculture Minister Aleksandr Tkachev. Last year, Russia's top exports were: oil at $90 billion; gas $40 billion; arms $15 billion; and agriculture $15 billion.
Russian Prime Minister Dmitry Medvedev said on Tuesday the country is gaining momentum as one of the world's leading exporters of agricultural products.
"Russia is successfully regaining the status of a major supplier on the global food market," Medvedev said, adding the government provides unprecedented state support for the agricultural sector.
You can share this story on social media: