Oil continues to fall as US stockpiles unexpectedly grow
Published time: 2 Nov, 2016 10:15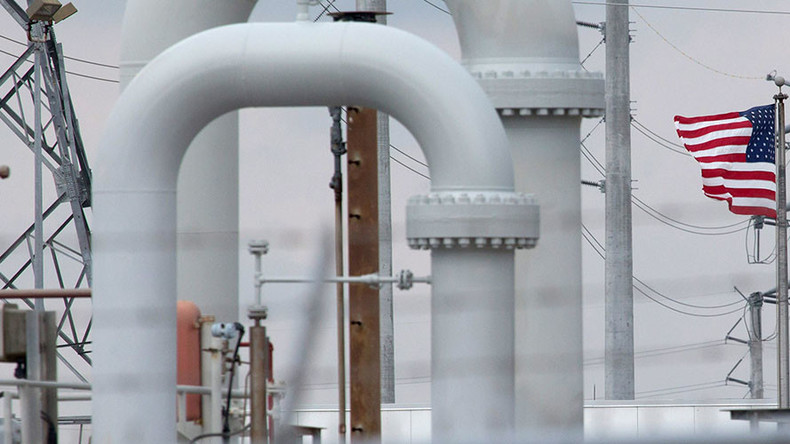 Crude prices extended losses to a five-week low on Wednesday as the American Petroleum Institute reported an increase of 9.3 million barrels in US inventories, more than nine times the amount analysts predicted.
North Sea benchmark Brent was down 75 cents trading at $47.39 per barrel, more than 10 percent below its peak last month. US benchmark West Texas Intermediate was down 76 cents at $45.91, showing the same extent of decline since October.
BRENT Oil
Current price: 47.39 USD
Change: -0.75 -1.56%

— Oil Today (@oilpricenow) 2 ноября 2016 г.
Traders say oil prices could plunge even further on growing US stockpiles and increasing skepticism about a joint output cut from the Organization of the Petroleum Exporting Countries (OPEC).
"Those who were hoping for some upside from any sort of production agreement appear to have their hopes dashed. It looks like there are speculative longs quitting the market," said Ric Spooner, chief market analyst at CMC Markets in Sydney.

In September, OPEC leaders informally agreed to cut the cartel's production, possibly by 200,000 to 700,000 barrels per day. The aim was to prop up prices by removing some unwanted barrels from the market.
This helped to build up prices in the short term, but with more OPEC members seeking exemptions from the production cuts, the deal, even if signed, may be too weak to cut the glut and overall production will still grow.
"The market is moving into the stage of show me rather than tell me or talk about it. There has been a month of comments from just about every member of OPEC and yet nothing concrete has been released to provide market participants with any degree of confidence," said Dominick Chirichella from the New York-based Energy Management Institute.