Deutsche Bank shares touch fresh record lows as big clients flee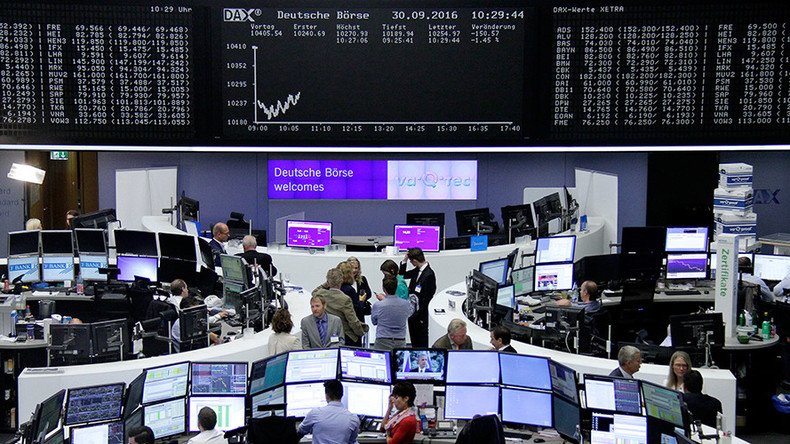 Deutsche Bank stock fell eight percent to $11.48 per share in early Friday trading on reports several big hedge funds withdrew billions of dollars to cut exposure to the German lender.
The share price of Germany's biggest bank is down over ninety percent since their peak of $127.81 in April 2007.
According to Bloomberg, among the 10 hedge funds that are running from Deutsche are Izzy Englander's $34 billion Millennium Partners, Chris Rokos's $4 billion Rokos Capital Management, and $14 billion Capula Investment Management. However, this is a fraction of Deutsche Bank's 800 client hedge fund business.
"In any given week, we experience ebbs and inflows. And this week is no different; it goes on all the time," said Barry Bausano, the bank's chairman of hedge funds, refusing to specify the flows. According to him, the hedge fund business was "still very profitable," but said there was "no question we have a perception issue."
Despite the acute fall, Deutsche shares rebounded within an hour, but were still losing over one percent as of 08:38am GMT.
"Our trading clients are among the world's most sophisticated investors. We are confident that the vast majority of them have a full understanding of our stable financial position, the current macroeconomic environment, the litigation process in the US and the progress we are making with our strategy," said Michael Golden, a spokesman for the bank.
Deutsche Bank is facing a $14 billion fine from US regulators over its mortgage-backed securities business before the 2008 global crisis. While some analysts have said the bank will be able to raise the cash on its own by selling assets, others predict it will need a bailout from the German government.
However, many German politicians are reluctant to rescue the bank, whose business abroad has resulted in billions of euro of fines for wrongdoing, which may become a burden for taxpayers.
"At the present time I would rule out any capital help. That would not be the right way to go," Eckhardt Rehberg, parliamentary budget spokesman for the ruling conservatives told Reuters.
You can share this story on social media: