Deutsche Bank woes stoking fears of 2008 financial crisis repeat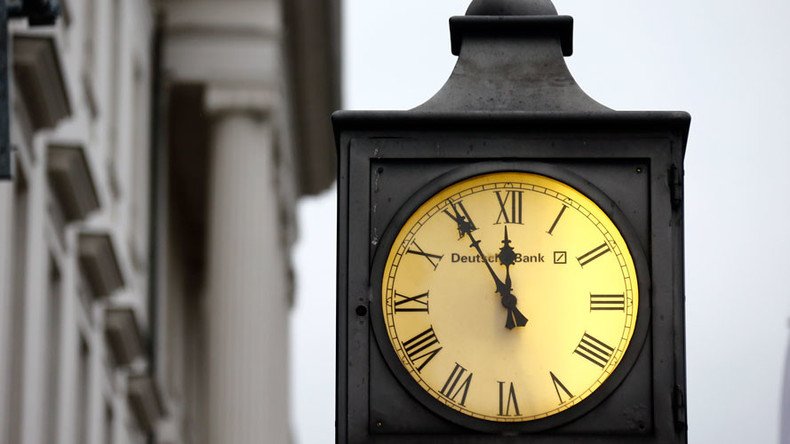 Europe's biggest lender Deutsche Bank has lost more than half of its value since January, posing a threat to the stability of other banks across the continent. Some analysts are worried it could invoke a large-scale crisis, bigger than in 2008.
After a massive sell-off on Monday, Deutsche Bank's market value shrank to €14.5 billion. In dollar terms it is only $2 billion more than the $14 billion penalty the bank faces from the United States Department of Justice over its mortgage-backed securities business before the 2008 global crisis.
Deutsche's problems have raised questions about the health of other big European lenders. The share price of the Royal Bank of Scotland has plunged 13 percent and Italy's UniCredit is down 12 percent this month. The Bloomberg Europe 500 Banks and Financial Services Index is down 4.2 percent for September. This is the worst result since June, when the Brexit referendum heavily hit the markets.
The problems of Deutsche Bank are putting the German government in a difficult dilemma, as it must decide whether to save the bank, whose assets are valued at about €1.8 trillion, half the size of the German economy.
This month, German MEPs didn't allow Italy to break eurozone rules and bail out the country's troubled banks.
"German politicians have been particularly insistent that Italy deals with its problem banks without using taxpayer's money, and by bailing in depositors and bondholders if necessary. In being so insistent they have backed themselves into a cul-de-sac of their own making, particularly if they choose to adopt different rules for their own largest and systemically important bank," Michael Hewson, chief market analyst at CMC Markets UK told Express.co.uk.
According to the analyst, Deutsche Bank is much more important than Lehman Brothers, which wasn't rescued by US authorities and kicked off the 2008 global crisis.
"Markets got a taste of the turmoil unleashed in the aftermath of Lehman Brothers and it wasn't anywhere near as systemically important as Deutsche Bank is, which means there is no way to accurately measure what any ripple out effects might be, if investors lose confidence even more and Germany leaves the bank to its fate," he said.
The record sell-off on Monday was provoked by a report in the German Focus magazine, which wrote Chancellor Angela Merkel has ruled out any state assistance for Deutsche next year in talks with CEO John Cryan.
German daily Die Zeit reported on Wednesday that the Bundestag and financial authorities are preparing a rescue plan for the bank if it is unable to raise capital to pay for litigation with the US authorities.
Christopher Wheeler, banks analyst at Atlantic Equities pointed out that Deutsche Bank is in a better position than Lehman Brothers was in 2008, as it has €250 billion of sellable assets that can meet any demands from customers.
Deutsche CEO John Cryan told German daily Bild on Wednesday that the bank never asked for help from authorities.
"At no point did I ask the chancellor for support. Neither did I suggest anything like that," said Cryan.
You can share this story on social media: