Kiev files WTO challenge to Moscow's freight transit restrictions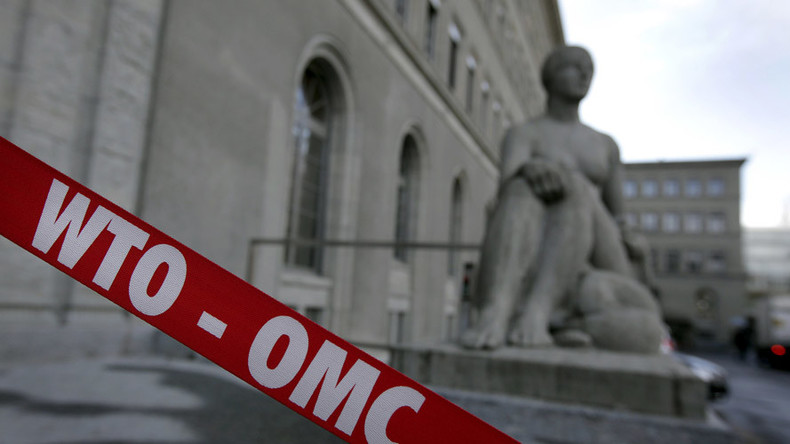 The Ukrainian government has sent a complaint to the World Trade Organization (WTO) to challenge Russia over obstructing transit of export goods through its territory.
A request for consultations sent by Kiev is the first step in the WTO common dispute settlement procedure. If the complaint with Russia is not settled in 60 days, and arbitration panel is instigated.
Moscow agrees Ukraine had the legal right to ask the WTO to adjudicate, if the sides did not find a mutually acceptable solution.
READ MORE: Brussels urges Russia to lift Ukrainian transit restrictions

"The Ministry of Economic Development jointly with the interested government bodies will attentively study the Ukrainian request and the arguments contained in it," said the Russian ministry in a statement.
Earlier this year, President Putin extended the restrictions on Ukrainian goods transferred through Russian territory to Kazakhstan to cover neighboring Kyrgyzstan. Ukraine in turn introduced similar measures despite the EU urging no retaliatory action.
Under the current rules, Ukraine must transport cargo to Belarus in sealed containers equipped with a tracking system installed when it crosses the Russian border. The tracking system is removed as soon as the cargo leaves Russian territory.
READ MORE: Ukraine to limit transit of Russian goods in response to Kremlin

Moscow ended the free trade treaty with Ukraine in January after Kiev signed the EU Association Agreement. According to the Kremlin, Ukraine's move to open its borders to Europe compromises Russian interests and economic security, by enabling the illegal supply of embargoed European goods to Russia.