Stable ruble instills confidence in Russia's business giants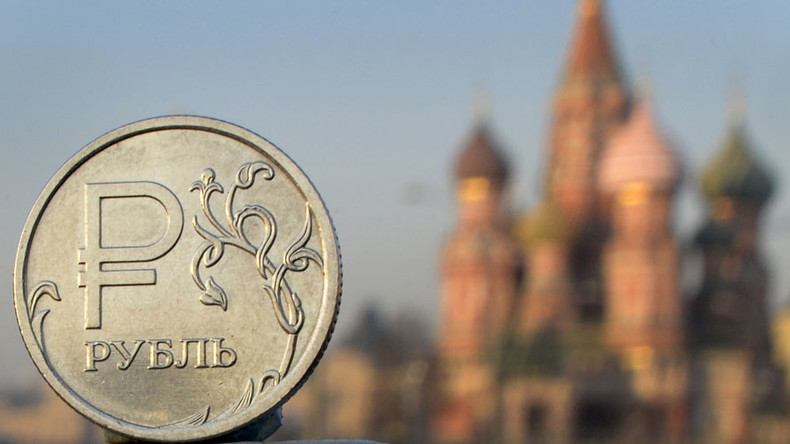 Some of Russia's biggest companies are expecting better times ahead as the national currency has stabilized and the economy has shrugged off its longest decline in 16 years.
Top managers at the Renova Group conglomerate, Russia's biggest gold miner Polyus Gold and the country's top coal producer SUEK, told Bloomberg that business currently relies on a stable ruble after the economy started getting out of recession.
Anticipated volatility has fallen to its lowest level since the Russian central bank switched to a free floating currency in late 2014, say traders as cited by Bloomberg.
READ MORE: Putin wants balance between stronger ruble and Russian budget

The prospect of economic calm will help investors to focus on the improvement in business confidence and an 80 percent decline in capital outflow.
The country's assets are sought by international investors due to their high yields with below-zero interest rates offered elsewhere.
"Should there be no strong fluctuations in oil, the ruble will be at slightly more than 65 [rubles against the US dollar]," said the owner and president of Renova Group, Viktor Vekselberg, stressing that the Russian currency had finally got its act together.
Despite low prices for oil, the currency turned out to be the second-biggest gainer in emerging markets this year after Brazil's real. The ruble is steadily strengthening from 67 per dollar at the end of the first quarter.
Following an abrupt fall in crude prices, the Russian currency declined to a record low of 86 rubles against the US dollar in January, having lost more than half of its value. According to data compiled by Bloomberg, implied three-month ruble volatility has fallen to 14.3 percent, the lowest since about two weeks before the free float was introduced.
"Fluctuations of 15 percent are an absolutely normal thing for any currency in the world that's in free float," said Vladimir Rashevsky, the head of Russian coal miner SUEK, who suggests the currency will trade in a range of 60 to 70 per dollar.
READ MORE: Foreign investment returns to Russian market on rising crude

"For this year's budget, we projected the ruble at 65 per dollar. It's possible to assume that similar levels will be used for next year," said CEO of Polyus Gold, Pavel Grachev, adding that the currency was "de facto stable."
Bloomberg analysts expect Russia's GDP to contract 0.7 percent in 2016 and return to growth next year.
You can share this story on social media: