Putin wants balance between stronger ruble and Russian budget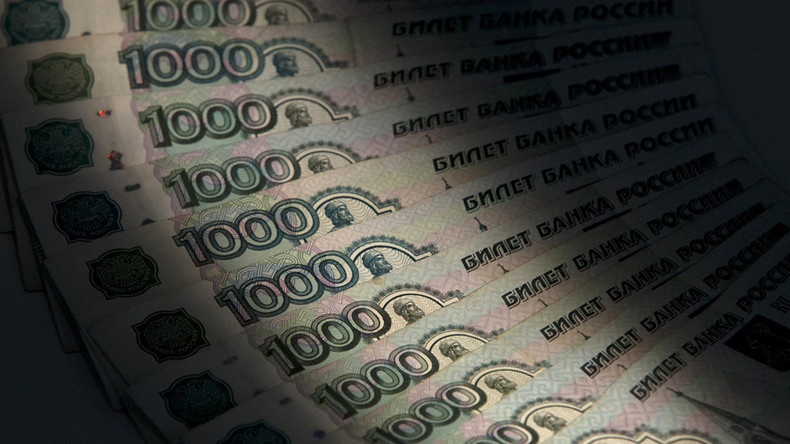 Russian President Vladimir Putin has called on the government to assess the strengthening trend of the ruble and the ways to balance the country's budget.
"We are closely monitoring the economy and know there's a certain strengthening of the national currency. The ruble is strengthening despite the price volatility on commodity markets," Putin said on Tuesday at a meeting with Prime Minister Dmitry Medvedev in Sochi. "Of course we have to think about how and what we'll be doing in the near future with these factors."
Medvedev said the government's plan for 2016 supports the 'real' sector of the economy, small and medium businesses and non-oil exports. He added the share of revenue from non-oil exports had increased significantly in recent years.
The Prime Minister said all those factors will be considered when preparing the country's long-term three-year budget plan.
Kremlin spokesman Dmitry Peskov explained a balance is needed to prevent excessive support for one sector of the Russian economy at the expense of another.
"In general, the ruble's strengthening has positive aspects, yet from another point of view, this requires some measures towards export-oriented sectors," Peskov said. "Of course, fully moving to one side would not be wise."
The ruble has been the best performing currency this year after Brazil's real, gaining 17 percent. The Russian currency has reached several record highs in the last six months despite falling oil prices which the ruble exchange rate was traditionally closely tied to. Russian shares have also been high in demand.
The strengthening ruble, however, could have a negative effect on oil and gas revenues and hence on the Russian budget, which means additional spending from the Reserve Fund could be needed.
READ MORE: Weak ruble as oil prices rise improves Russia's economic outlook
The last time the Central Bank of Russia intervened in the foreign currency market was in May 2015, when the Russian currency strengthened below 50 rubles against the dollar. The regulator then purchased dollars to replenish international reserves.
Last month, the Central Bank cut its key interest rate by 0.5 percentage points to 10.5 percent per annum, for the first time since July 2015.
Almost all from the 23 economists surveyed by Bloomberg said there is an option for Russia's Central Bank to extend monetary easing. They also predicted the key rate will remain at 10.5 percent when it reviews borrowing costs next week.