Foreign funds boost investment in Russia, but all's far from perfect
Investments in Russia have grown for a second week in a row, reports Sberbank CIB, citing data from Emerging Portfolio Fund Research. In the week through August 17, capital inflow has more than doubled.
Read more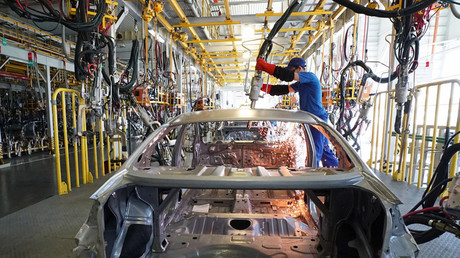 During the week, investors bought $167 million worth of Russian assets, surging from $66 million the week before.
Despite the surplus, investments in Russia were the lowest among developing BRICS economies. In general, emerging markets attracted $5.15 billion, compared to $1.25 billion last week.
According to Sberbank analyst Cole Acheson, investors may not be convinced by the 20 percent rise in oil prices since the beginning of August. The market is also concerned by a possible toughening of rhetoric between Russia and Ukraine.
The Russian currency was slightly losing its position on Friday, trading at 64 rubles against the dollar and 72.5 against the euro. The ruble-traded MICEX and dollar-denominated RTS indices were down less than 1 percent.
READ MORE: Russian stock market reaches historic high
Domestic currency slid with oil, which was trading at $50.52 per barrel of North Sea benchmark Brent and $48 for US WTI.
The ruble has been the best-performing among all emerging-market currencies outside of Brazil this year, however, a further rally is in question. Probable monetary easing and troubles with the current-account surplus, which dropped to $16.4 billion in July from $50.6 billion in the same period last year, may hit the Russian currency, said an economist for Russia at Bank of America, Vladimir Osakovskiy, in an interview with Bloomberg.
Shares in major Russian companies were also in the red, with Gazprom, Sberbank, and Rosneft all sliding less than 1 percent.