Billionaire Soros doubles bet against US stocks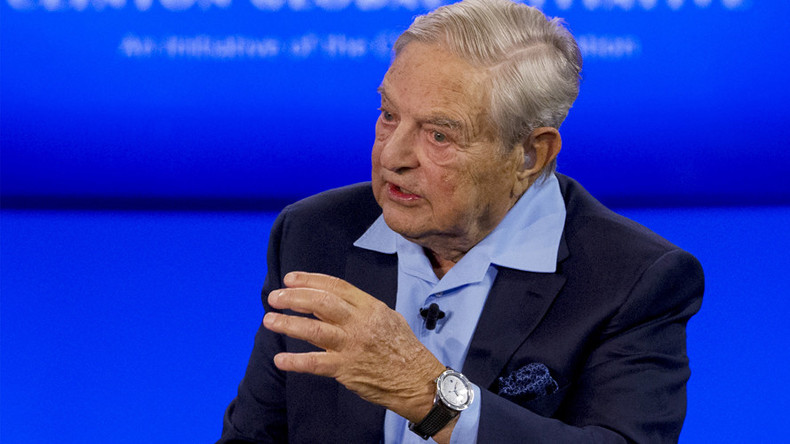 Soros Fund Management has increased its bearish bet against US companies on the S&P 500 index. Its billionaire owner will make money if the index collapses.
The Standard & Poor's 500 is an American stock market index based on market capitalization of 500 large US companies having common stock listed on the New York Stock Exchange or on NASDAQ.
The 86-year-old investor's fund has reported it had arranged 'put' options on roughly 4 million shares as of June 30. This is up from 2.1 million shares as of March 31.
A put option gives investor the right, not an obligation, to sell these shares in the future. This means Soros will earn, if the S&P 500 index goes down. The fund didn't specify the price or expiration of these positions.
A rally since late June has the S&P 500 up nearly 7 percent in 2016, setting new historic-highs almost every day. The index set a record closing at 2,190 points on Monday.
The billionaire's fund also slashed its holdings in SPDR Gold Trust to 240,000 shares worth $30.4 million, from 1.05 million shares worth $123.5 million in the first quarter of the year.
Soros Fund Management also significantly reduced its stake in Barrick Gold to 1.07 million shares worth $22.9 million, from 19.4 million shares in January-March.
READ MORE: Soros seeks safe haven in gold, concerned about possible EU collapse
Founded by George Soros in 1969, the fund manages his family fortune. Much of the money goes into other hedge funds and investment firms.
With a $24.9 billion fortune, George Soros is ranked by Forbes as the 15th-richest person in the US.
While three major US stock indices ended at all-time highs on Monday, it wasn't only Soros among billionaires to be bearish in the second quarter. Jeffrey Gundlach, Carl Icahn and David Tepper also slashed their 'long' positions.
READ MORE: Global stocks at record highs with crude rallying
"The artist Christopher Wool has a word painting, 'Sell the house, sell the car, sell the kids.' That's exactly how I feel – sell everything. Nothing here looks good," Gundlach told Reuters last month.
Gundlach has been shortening on stocks and keeping high exposure on gold. Gold prices have grown from $1,060 per troy ounce at the end of last year to $1,356 on Tuesday.
You can share this story on social media: