Global stocks at record highs with crude rallying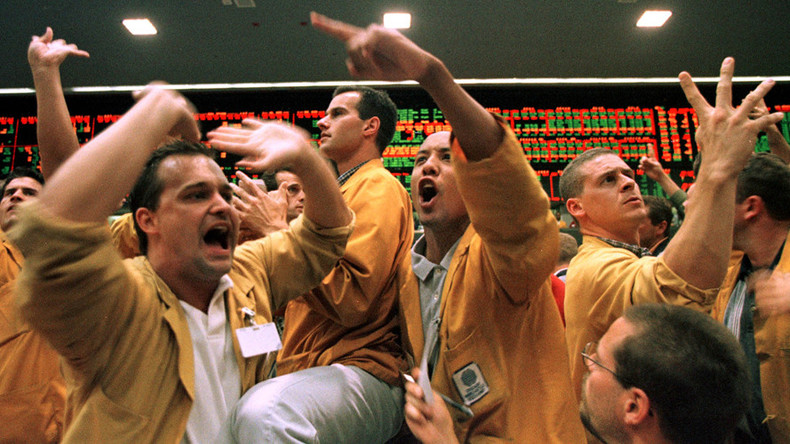 The three main US stock indexes reached new record highs by the end of the trading on Thursday. The last time that happened was in late 1999, just before the dotcom bubble market collapse.
The Dow Jones Industrial Average rose 0.1 percent, topping its recent record set on July 20. The S&P 500 grew 0.5 percent, while Nasdaq ended the day up 0.5 percent, beating highs set earlier this month.
The rally was boosted by growing employment numbers in the US, reports on a high crop yield from the US Agriculture Department, and a positive earnings report released by retail giant Macy's. The store posted a solid profit margin and positive forecasts despite closing 100 outlets across the country.
At the same time, European stocks have reached a seven-week maximum on Friday with the market backed by strong reports from companies and enthusiasm about stimulus measures implemented by global central banks.
Germany's DAX added 0.9 percent, the French CAC 40 grew by 1.2 percent and London's FTSE 100 was up by 0.7 percent. The FTSEurofirst 300 index gained 0.1 percent.
Shares in Danish group Moller–Maersk grew 4.9 percent, the top gainer in the pan-European STOXX 600 index. Energy stocks followed higher crude prices with the European Oil and Gas index increasing 1 percent. Tullow Oil, BP and Royal Dutch Shell gained from 1.1 to 4.4 percent.
The STOXX Europe 600 stock index was up 0.1 percent by 07:17 GMT, regaining all post-Brexit losses.
Oil prices rose amid a positive forecast by the International Energy Agency (IEA). North Sea Brent crude grew over 4 percent, trading at over $46 per barrel. US West Texas Intermediate crude gained to over $43 per barrel.
You can share this story on social media: