Turkey to transit Russian natural gas to Europe via Turkish Stream pipeline - Erdogan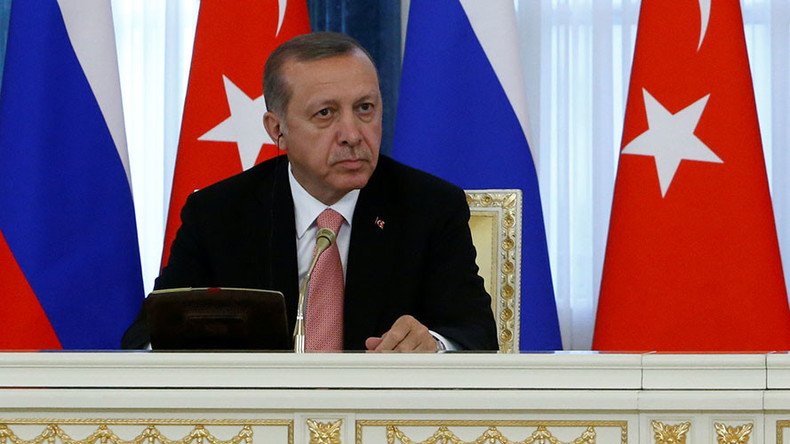 Turkish President Recep Tayyip Erdogan says the Turkish Stream pipeline is going ahead and will be implemented swiftly. The announcement came after Tuesday's meeting with Russian President Vladimir Putin in St. Petersburg.
The Turkish Stream project was parked late last year due to the dispute between Moscow and Ankara after Turkey shot down a Russian warplane in Syria. However, with a thaw in relations the project is expected to be given another life.
The pipeline was announced by President Putin in December 2014 during a visit to Turkey. The project was to replace the abandoned South Stream pipeline through Bulgaria.
The Turkish Stream pipeline is intended to deliver gas from the Russian Black Sea coast to Turkey and on to Greece.
Initially, Russia's Gazprom wanted to deliver 63 billion cubic meters of gas per year. Later the capacity was cut to 32 billion cubic meters. Turkey would take about 14 billion cubic meters, with the rest going to Europe.
The two sides also decided to continue with Turkey's first nuclear power plant at Akkuyu. The agreement to build four 1,200 MW reactors at a total project cost of $20 billion was signed in May 2010. Before relations between the countries deteriorated, the first reactor was planned to be commissioned in 2022.
READ MORE: Russia halts Turkish Stream project over downed jet
President Putin also said Russia intends to resume charter flights to Turkey, as Ankara has provided security guarantees for Russian tourists.
"We have considered the possibility of the resumption of charter flights. It's a mere formality and time," said Putin.
The Russian President added that the number of Russian tourists visiting Turkey will soon return to pre-crisis levels, and that the sale of tour packages to Turkey resumed in June. On Tuesday, it was reported the number of Russian tourists visiting Antalya has plummeted 97 percent this year.
READ MORE: Putin lifts Turkey tourism ban
In February, Russia's Ambassador to Turkey Andrey Karlov said Turkish exports to Russia fell by two-thirds soon after the jet incident. In November 2015, a Russian pilot died when his plane was shot down over Syria by a Turkish fighter.
Following the incident, Moscow introduced a package of economic measures against Ankara – a visa regime, travel ban, as well as an embargo on agricultural products and on hiring Turkish nationals. All major projects were also frozen.
You can share this story on social media: