EU hits Russian & Chinese steel with anti-dumping tariffs
Published time: 4 Aug, 2016 15:11
Edited time: 4 Aug, 2016 15:13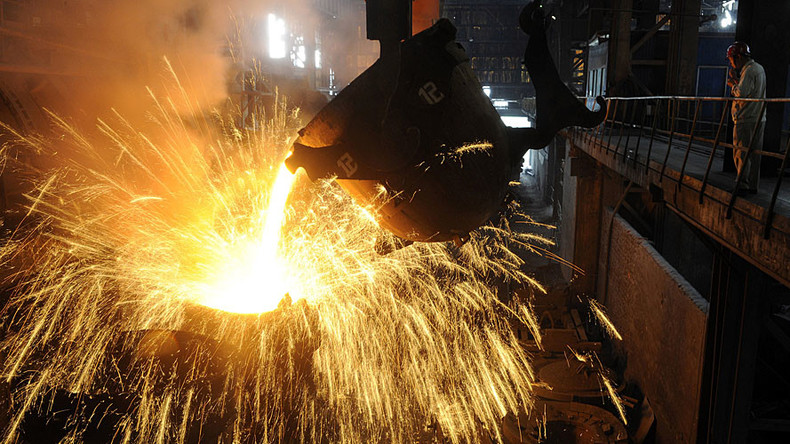 The European Union has imposed anti-dumping import duties on cold-rolled flat products of iron or non-alloy steel produced in Russia and China.
The new tariffs vary from 18.7 to 36.1 percent, and are imposed for a five-year period applied retroactively from December 2015.
The EU claimed imports from both countries were unfairly undercutting European producers such as ThyssenKrupp and ArcelorMittal. EU-based manufacturers suffered "material injury" as a result of dumped imports from Russia and China, according to the investigative commission.
"This shows our continuous efforts to use to the fullest extent the available trade defense instruments to fight unfair imports of steel products," said Mina Andreeva, a spokeswoman for the European Commission.
The probe started in May 2015 after a dumping complaint by the European steel industry group Eurofer.
Provisional six-month levies to punish Russian and Chinese steel exporters were introduced in February and they were raised further in June.
The targeted manufacturers include Russia's Magnitogorsk Iron & Steel Works, Novolipetsk Steel, Severstal as well as Chinese Angang Steel Company and Shougang group. The enterprises' production is commonly used in the packaging, automotive, and construction sectors.
According to the commission, exporters from Russia and China extended their combined share of the European market to 20.1 percent in the 12 months through March 2015 from 14.3 percent in 2011. Russia's share surged to 9.8 percent from 5.9 percent over the period.
Under World Trade Organization regulations, the EU is authorized to impose anti-dumping duties on goods manufactured outside the bloc if the products are priced below fair market value and cause injury to the bloc's industry.