Beijing criticizes US 5x tax hike on Chinese steel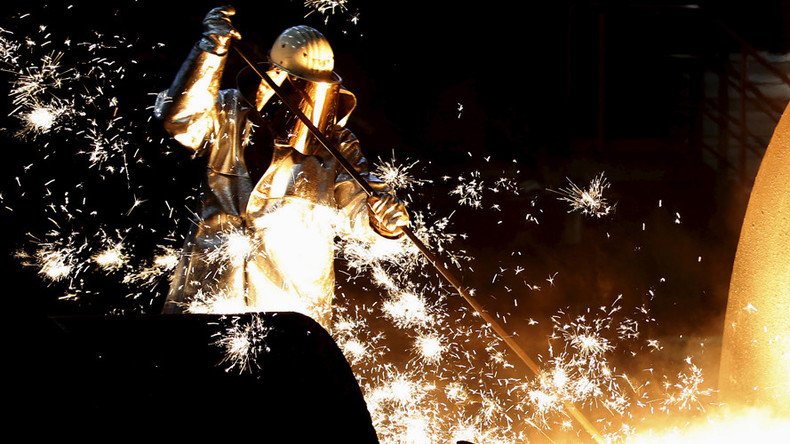 China has called for the removal of anti-dumping penalties imposed by the US on its steelmakers who are accused of selling their product below market price.
This week the US Commerce Department announced a 522 percent duty on some Chinese steel products, which includes a 266 percent anti-dumping duty and a 256 percent anti-subsidy duty.
The tariffs specifically apply to Chinese-made cold-rolled flat steel which is used in car manufacturing, shipping containers and construction. China's 2015 exports of cold-rolled steel flat products to the US are estimated at $272.3 million.
A separate filing by major US steelmakers to the International Trade Commission is aiming to completely ban all Chinese steel imports.
"China is extremely dissatisfied with this decision," China's Ministry of Commerce said in a statement, adding the country "urges the US to strictly abide by World Trade Organization guidelines and correct its mistake as quickly as possible."
The tax hike comes as the US and EU governments complain a flood of low-cost steel from China is hurting their steel producers and threatening thousands of jobs. The US and European steel producers claim China is distorting the global market and undercutting them by dumping its excess supply abroad.
READ MORE: Is David Cameron sacrificing British steel to keep China happy?
According to the US steel industry, around 12,000 workers have been laid off in the past year because of unfair Chinese competition. In Britain, producer Tata Steel also blamed low-cost Chinese competition when announcing plans last month to sell money-losing operations that employ 20,000 people.
While Western steel companies accuse Beijing of unfairly subsidizing its steel exports, China is trying to save its steel sector which is suffering from over-capacity due to slowing domestic demand.
China's steel exports reached a record 112.4 million tons last year. As producer of half of the world's steel, China claims overcapacity is a global problem brought on by weaker demand. Beijing has already announced 500,000 job cuts in its own steel mills.
"I think complaints from the international community on China's steel overcapacity have a point, we can't deny that China's steel capacity is huge at over 60 percent of global steel capacity," chief economist at the Agricultural Bank of China Xiang Songzuo told NBC News, adding that China could very nearly meet world demand for steel on its own. "I think China should face this issue … [but] there are a lot of mechanisms between China and the US to negotiate..."
The economist also said that while the size of the new US tariff is "really a surprise for China and a little abnormal," it could create "back-and-forth retaliatory taxes which will not be good for China-US economic relations and the global economy."
You can share this story on social media: