UK cuts interest rates for first time in seven years, extends QE
Published time: 4 Aug, 2016 13:18
Edited time: 4 Aug, 2016 15:02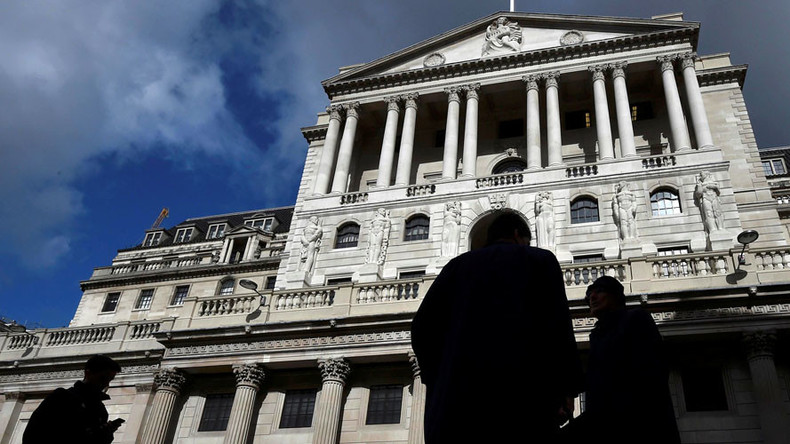 The Bank of England (BoE) has reduced the official base rate from 0.5 percent to 0.25 percent which is a record low, and the first cut since 2009 when it tried to cushion the UK economy from the global financial crisis.
It has also slashed growth forecast for 2017 from the 2.3 percent it was expecting in May to just 0.8 percent. The forecast for 2018 has been cut from 2.3 percent to 1.8 percent. The regulator said it expects the unemployment rate to rise to 5.4 percent next year and 5.6 percent in 2018.
"Following the United Kingdom's vote to leave the European Union, the exchange rate has fallen and the outlook for growth in the short- to medium-term has weakened markedly," the bank said.
Governor Mark Carney said there was scope to cut the interest rate further.
The British Bankers Association said that the bank's decision shows it is taking a "whatever it takes" approach to stabilizing the country's economy.
READ MORE: Bank of England sees no 'clear evidence' of Brexit downturn
As part of measures aimed to stimulate the UK economy, the BoE has boosted its quantitative easing program by £60 billion to £435 billion and announced a new £100 billion funding scheme for lending. The new funding program is expected to encourage Britain's banks to lend to businesses and consumers.
Carney warned that banks have "no excuse" not to pass on the lower borrowing costs to customers and a penalty will be charged if they do not lend.
"The MPC (Monetary Policy Committee) is determined the stimulus the economy needs does not get diluted as it passes through the financial system," said Carney.
The Bank of England has also decided to start buying £10 billion of corporate bonds (or debt issued by UK companies) with newly created money. Only companies considered to be contributing to the UK economy will be eligible.
Following the regulator's announcement the pound fell by more than one percent against the US dollar, to $1.317. Sterling also dropped almost one percent against the euro to €1.1835.
The FTSE 100 index rose almost 90 points to 6,723.90 as of 13:00 GMT on Thursday.