France urges Jose Manuel Barroso to walk away from Goldman job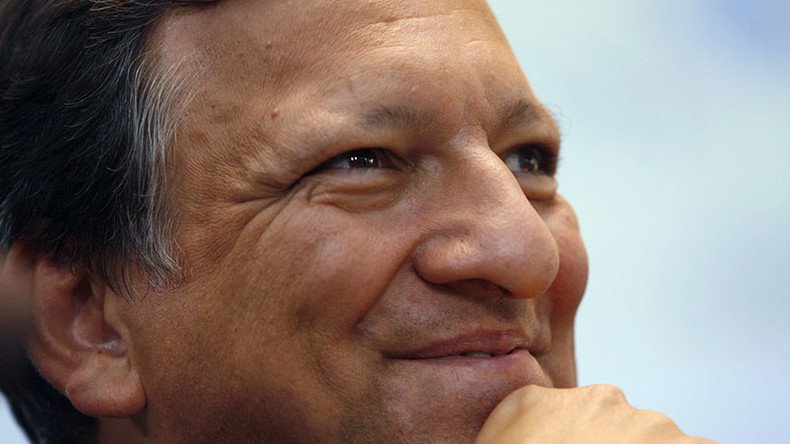 The French government has called on former European Commission chief Jose Manuel Barroso not to take a job with Goldman Sachs, Reuters reported. Some EU politicians are demanding Barroso be sanctioned for accepting the new position.
Barroso is criticized for joining the Wall Street bank that helped set off the 2008 financial crisis. Goldman has also been blamed for assisting Athens inhiding its financial situation in order to enter the eurozone in 2000.
The "scandalous" move raised questions about the EU's conflict of interest rules, according to French European Affairs Minister Harlem Desir, who said they should be tightened.
READ MORE: EU furious over Jose Manuel Barroso's new job at Goldman Sachs
"It's a mistake on the part of Mr. Barroso and the worst disservice that a former Commission president could do to the European project at a moment in history when it needs to be supported and strengthened," Desir said, adding the European Commission president should be above the pressures of private interest. "The restriction on being hired by a private company should be extended," he said.
Last week Barroso was appointed chairman and senior adviser to the international arm of Goldman Sachs. He was Portugal's prime minister from 2002 to 2004, and later served as president of the European Commission from 2004 to 2014.
EU Economics Commissioner Pierre Moscovici said "when a public person leaves public life and goes to the private sector, he also has to think about the image it projects."
"I can assure you I won't go to Goldman Sachs," Moscovici said on France's Europe 1 radio.
READ MORE: Major Wall Street banks accused of massive collusion

The French Socialist delegation to the European Parliament has even called for sanctions against Barroso, claiming he had failed to "behave with integrity and discretion." The delegation wants Barroso's pension from the Commission to be cut when he reaches 65 years of age.
You can share this story on social media: