Anti-Russian sanctions cost Western countries over $60bn - research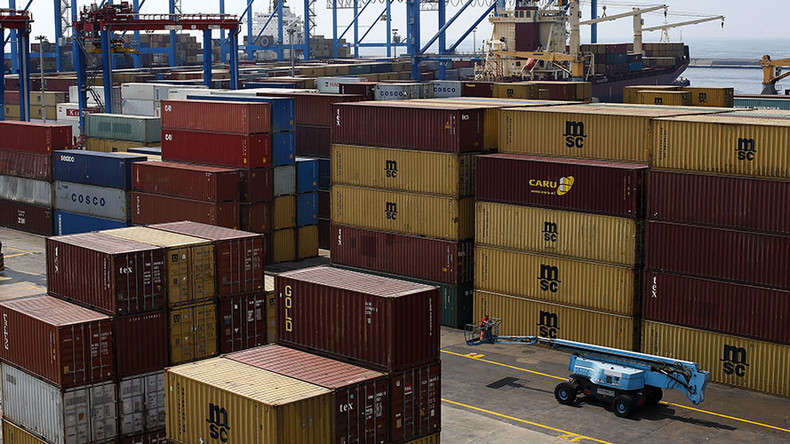 Countries that backed sanctions against Russia have suffered significant export losses with products targeted by the Russian embargo accounting for only a small fraction of the loss, according to the French research center in international economics CEPII.
"We find the overall costs to total $60.2 billion from the beginning of the conflict [in Ukraine in 2014 – Ed.] until mid-2015," said the center's report, adding that EU countries bear 76.7 percent of all the trade loss.
According to CEPII, the major part of that loss - 82.2 percent - is accounted for by the products that are not targeted by Russian countersanctions.
"Importantly, the products that are targeted by the Russian embargo account for only a small fraction of the total loss. This suggests that most of the impact of the diplomatic conflict on exports can be considered as collateral damage," said CEPII.
The researcher used monthly data to evaluate the effect on French firms and found the sanctions had decreased individual firm's probability of exporting to Russia, the value of shipments, and their price.
"Furthermore, between boycotts, country-risk, and trade finance, the latter [sanctions –Ed.] is found to best explain the stark decrease in French firms' exports."
For non-embargoed products, the average monthly value of export shipments to Russia decreased by 3.5 percent, said the report.
CEPII also assessed the "strength of pre-sanction economic ties," saying that in 2012, prior to sanctions Russia accounted for about 2.3 percent of all sanctioning countries' exports and 63.8 percent of Russian exports were destined for those countries.
EU sanctions against Russia were initially introduced in 2014 over the country's alleged involvement in the conflict in eastern Ukraine and Crimea. They targeted Russia's financial, energy, and defense sectors, as well as a number of government officials, businessmen, and public figures.
Moscow responded by imposing an embargo on agricultural produce, food and raw materials on countries that joined the anti-Russian sanctions. Since then the sides have repeatedly broadened and extended the restrictive measures.
Russia is the fourth-largest EU trading partner after the US, China and Switzerland. The country is also Europe's biggest natural gas supplier and one of its biggest oil suppliers.
READ MORE: Russia prolongs Western food embargo until end of 2017
Trade between Russia and the EU dropped from $417.7 billion in 2013 to $235.7 billion last year.
Recently, some European policymakers and businesses have become increasingly skeptical about the sanctions, pointing out that they have proven to be politically ineffective and economically harmful for both Russia and Europe.
You can share this story on social media: