France wants sanctions on Russia lifted soon – foreign minister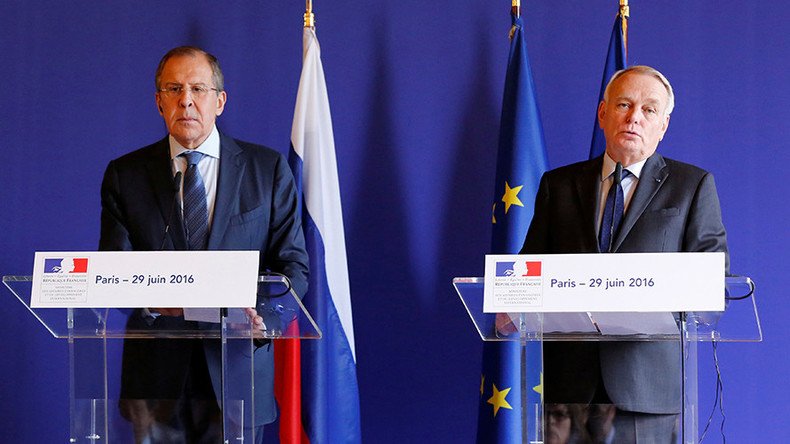 Sanctions against Russia should be lifted as soon as possible, France's Minister of Foreign Affairs said on Wednesday following a meeting with his Russian counterpart, while insisting that implementation of the Minsk agreements still remain key to the process.
"Sanctions is not a goal in and of itself," Jean-Marc Ayrault said in Paris, adding that his country looks forward to scrapping the restrictive measures against Moscow.
The process of lifting the Western sanctions on Russia is still related to Minsk agreements that aim to put an end to the crisis in southeastern Ukraine, Ayrault added, saying that "Russia should play a positive role" in their implementation.
Moscow and Paris have been closely working together "in the Normandy format," Russia's Foreign Minister Sergey Lavrov said after the meeting. The countries' foreign ministries have been "closely cooperating" and their aides have been involved too, Russia's top diplomat said. The Normandy format includes Russia, France, Ukraine, and Germany.
"The most important condition for the progress, as stated in the Minsk deal and in UN Security Council resolution, is establishment of direct dialogue between Kiev and Donbass," Lavrov stressed.
READ MORE: Time to send 'strong signal' to Russia and gradually lift sanctions – Austrian FM
Russia has repeatedly said that it's doing everything in its power to facilitate the implementation of the Ukrainian peace deal, while Kiev has been hindering the process. The West should work with its "allies" in Kiev, President Putin has said, adding that direct dialogue between the parties to the conflict should be promoted.
Russia's European partners should not hold Moscow solely responsible for fulfilling the Minsk agreements, Putin said at the St. Petersburg International Economic Forum (SPIEF) earlier this month, adding that there are "issues that are beyond our abilities."
A number of the 28 countries in the European Union have expressed strong disapproval of the bloc's restrictive measures on Russia. Italy has repeatedly called for a debate on the issue, rather than the automatic prolongation of sanctions.
READ MORE: Anti-Russian sanctions should be lifted ASAP – leader of Saxony, Germany

In France, both the Senate and the lower house of Parliament, the French Assembly, have previously voted in favor of a resolution designed to lift the sanctions imposed by the EU in 2014 because of the crisis in eastern Ukraine and the reunification of Crimea with Russia.
You can share this story on social media: