Britain's FTSE index hits 10-mo high despite Brexit hysteria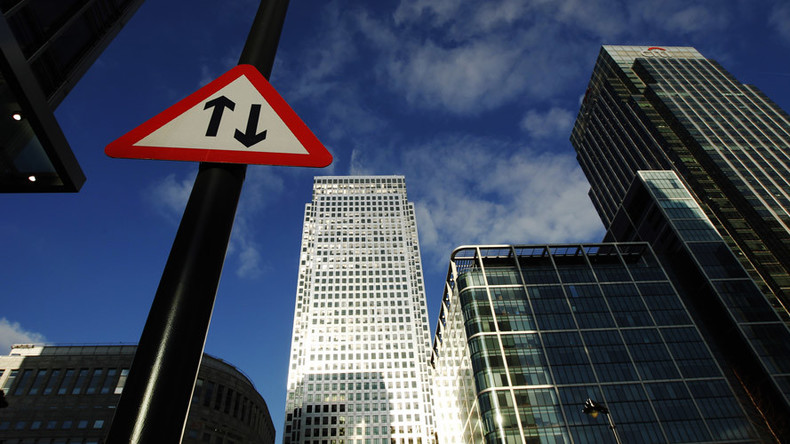 London's FTSE 100 rose for a fourth straight session on Friday to reach its highest level since last summer, recovering from the initial negative impact caused by the UK's vote to leave the EU in a referendum last week.
The index was up 0.34 percent, reaching 6,527 points at 10:00am GMT. As the voting results came in last Friday, the FTSE fell more than eight percent during early trading, but recovered to close three percent in the red. After another losing session on Monday, the market took a dramatic upturn, and the FTSE is now on track for its biggest weekly gain since December 2011.
"As if the market's behavior in the wake of the Brexit referendum couldn't get any stranger, the FTSE 100 has now pushed out to above 6,500 for the first time since before the Chinese equity market shock last August," Tony Cross, market analyst at Trustnet Direct, was cited by the Daily Mail.
READ MORE: British Pound falls to 30-yr low against US dollar
The FTSE 250 index of medium-sized UK firms has also rallied, climbing almost two percent, but is still below its pre-referendum level.
The British currency has fallen by more than one percent on Friday to $1.3308 against the US dollar after the Bank of England announced plans for more stimuli. Governor Mark Carney said the bank would need to pump more cash into the British economy over the summer after the shock of the Brexit vote. Sterling plunged to its lowest mark in 31 years last Friday.
European bourses have also enjoyed a four-day rally following the initial post-Brexit selloff.
The German DAX rose 0.5 percent on Friday to 9,731.88 while the French CAC 40 index gained 0.25 percent to 4,247.99 as of 10:00am GMT.
On Wall Street, the Dow Jones industrial Average rose 1.3 percent to 17,929.99 on Thursday, and just 90 points below its high before the UK referendum. The S&P 500 surged 1.4 percent to 2,098.86, only 34 points below its historic high.
Some analysts continue to warn the recent market recovery might only be temporary.
"The odds may be against them, but investors are hoping that the worst is over for currencies and equities," Kathy Lien, managing director of foreign exchange strategy at BK Asset Management, told the BBC.
She added that "considering there's been no additional clarity on the terms of Brexit or the outlook for the UK economy and global economy since Britain's decision to leave the European Union on Friday, we don't see fundamental support for the recent moves."
You can share this story on social media: