St. Petersburg Economic Forum opens to investors worth $10trn, businesses and Brussels top brass
Russia's annual international economic forum, SPIEF, has opened, marking its 20th anniversary. Among the guests are European Commission President Jean-Claude Juncker, Italian Prime Minister Matteo Renzi and executives from the world's leading companies.
Read more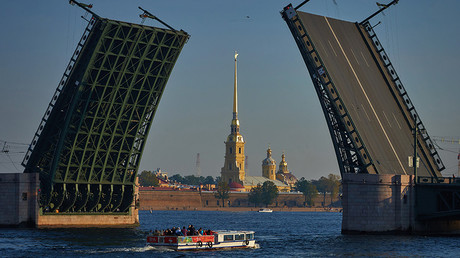 On Thursday evening, Jean-Claude Juncker is meeting Russian President Vladimir Putin to discuss the current state and prospects for Russian-EU relations, and the problem of settling regional crises. Putin and Juncker will consider how to stabilize business ties which have been greatly affected by bilateral sanctions.
READ MORE: Russia, EU pledge to continue dialogue despite sanctions
Earlier during the day, Juncker said he intended to discuss sanctions with Putin. Russian Foreign Minister Sergey Lavrov said he hoped the meeting between Putin and Juncker at the St. Petersburg International Economic Forum will help to improve relations between Moscow and Brussels.
The EU is Russia's main trading partner (44.8 percent of Russia's foreign trade in 2015). Russia is the fourth largest trade partner of the EU after the US, China and Switzerland and also the biggest natural gas supplier to the EU and one of its biggest oil suppliers. However, trade between Moscow and Brussels has sharply dropped from $417.7 billion in 2013 to $235.7 billion last year.
Putin and Juncker are also expected to touch upon the Nord Stream-2 pipeline, which is intended to provide 55 billion cubic meters of Russia gas per year to Germany via the Baltic Sea bypassing Ukraine. The controversial project is backed by Berlin, but heavily opposed by the Baltic States, Eastern Europe and the UK.
On Friday, Putin will meet Italian PM Renzi to discuss business and energy cooperation. Italy is Russia's fifth largest trading partner after China, the Netherlands, Germany and Belarus. Trade between Moscow and Rome is a victim of political tension, too, down to $30.6 billion from $48.4 billion in 2014. Russian reciprocal sanctions cost Italy, according to some estimates, 0.1 percent of GDP and 80,000 jobs.
Funds from 18 countries, including Europe and the US, with assets of more than $10 trillion are coming to SPIEF, according to Russian Direct Investment Fund (RDIF) CEO Kirill Dmitriev. This is twice as many as the year before, he said. A meeting of financers with Putin is due to be held at a forum business dinner.
Top managers from 230 foreign companies will also be represented. Among them are the UK's HSBC and PwC, Germany's Siemens and Volkswagen, Italy's Enel and Pirelli, Anglo-Dutch Royal Dutch Shell, Societe Generale, Schneider Electric and Total from France, Glencore from Switzerland, Mitsui from Japan and China's Alibaba.
Russia's Gazprom and Anglo-Dutch energy major Shell have inked a letter of understanding to begin a liquefied natural gas project at the Russian port of Ust-Luga on the Baltic Sea. The new plant will start operating in December 2021.
READ MORE: Shell & Gazprom agree Baltic LNG project
Washington has warned against doing business with Russia as normal, but the forum will be attended by top management from ExxonMobil, Caterpillar, International Paper and others.
Investors from Asia and the Middle East are taking the opportunity to more localize production in Russia, according to Ian Colebourne, the CEO of Deloitte CIS.
"What we are seeing is particularly interesting: agriculture, pharmaceuticals, healthcare continue to be of [investor – Ed.] interest," Colebourne told RT.
There is also expansion in light manufacturing, while sovereign wealth funds are interested in traditional sectors like energy, natural resources and infrastructure, he added.
The economic forum is being held on June 16-18 with the theme 'Capitalizing on the New Global Economic Reality'.