Church of England reveals huge investment in Google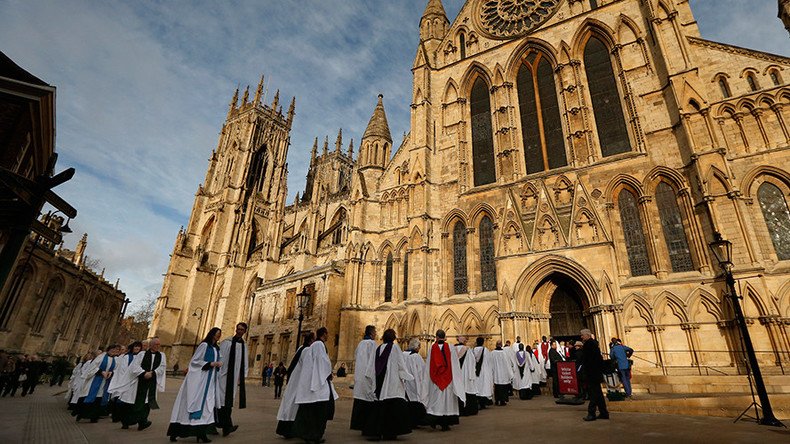 The Church of England (CoE) is investing millions of pounds in tech giant Google despite its promises to confront the firm over accusations of tax avoidance.
According to the latest report from the Church's financial arm, the Church Commissioners, Google's parent company Alphabet is among its 20 most valuable equity assets. The size of the investment hasn't been disclosed, although in 2011 it amounted to £15.7 million (about $22.5 million).
The Church Commissioners manage assets worth £7 billion. The report showed that one executive commissioner was paid £463,000 last year, which is almost six times the Archbishop of Canterbury's stipend and about 20 times the minimum pay for a parish priest.
The Church's investment in Google comes amid mounting criticism over the tech company's tax payments in Britain. In January, Google agreed to pay £130 million to the UK Treasury following a long-running row over its tax liabilities in the country.
Chancellor of the Exchequer George Osborne said the deal was a major victory for the government. However, Google's agreement with the UK government has sparked anger across the country, with campaigners and politicians calling for more robust tax laws.
READ MORE: 3% tax rate? Google accused of playing UK taxpayers for 'fools'
The deal has been criticized by MPs for appearing "disproportionately small" compared to the tech giant's UK business.
Experts estimated Google has paid just 3 percent in UK corporation tax over the last 20 years, despite an official corporation tax rate of 20 percent.
Earlier this year Caroline Spelman, a Conservative MP and one of three Church Estates commissioners, was asked whether the Church actively sought to avoid investing in companies accused of aggressive tax avoidance.
"Yes. Indeed, it is just a year since the Archbishop of Canterbury said that a good economy is based on 'the principle that you pay the tax where you earn the money,'" she replied, as cited by the Telegraph.
The Church of England has wide-ranging investments in the UK and abroad: from pieces of woodland used for timber to investment strategies run by some of the world's biggest hedge funds, and stakes in big oil companies.
A specially-designed ethical investment advisory board is overseeing the whole process to prevent the Church from funding any businesses that could act against Christian principles.
However, the Church's investment policy has often come under fire. Last year, Christian protesters criticized the CoE's decision to host an arms conference in one of its buildings in Westminster, saying it contradicted the Church's ethical investment stance. They called on the CoE to divest from the global arms trade and stop facilitating weapons dealers.
In 2012, the CoE was slammed when its pensions' board invested £60 million in hedge funds.
You can share this story on social media: