​'Stop profiting from war,' Christian protesters tell Church of England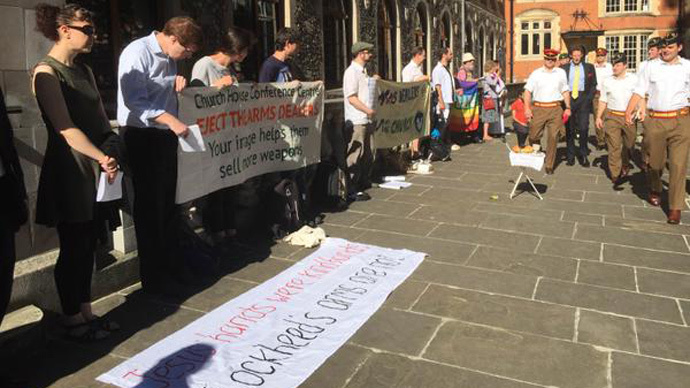 A coalition of Christian campaigners held a vigil outside the Church of England's (CoE) administrative headquarters on Tuesday morning, calling on the Church to divest from the global arms trade and stop facilitating weapons dealers.
The peaceful demonstration kicked off at 8am BST outside the Church House Conference Center in Westminster, central London.
Campaigners gathered outside the building condemned the CoE's decision to rent the venue out to arms dealers for the RUSI Land Warfare Conference 2015. The event, which focuses on land-based warfare, is sponsored by arms giants Lockheed Martin and MBDA Missile Systems.
Today protesters urged @ChurchHouseConf to #DisarmChurchHouse Find out more & add your voice https://t.co/8LyU0huNR9pic.twitter.com/KuZJzYOxgL

— CAAT (@CAATuk) June 30, 2015
Tuesday's vigil was supported by a broad spectrum of groups, including Fellowship of Reconciliation, Pax Christi, Campaign Against Arms Trade (CAAT) Christian Network, Christian Campaign for Nuclear Disarmament (CND), Christianity Uncut and SPEAK.
The coalition of campaigners said the arms industry perpetuates enormous human suffering worldwide. They stressed Lockheed Martin is the largest weapons dealer in the world, while MBDA Missile Systems sold arms to Colonel Gaddafi's Libyan regime.
Pat Gaffney of Pax Christi said the decision to host the arms conferencein a CoE building contradicts the Church's ethical investment policy.
"The CoE statement on ethical investment states that its investment bodies do not directly profit from activities that are inconsistent with Christian values," he said.
"How then is it comfortable to host and accept money from some of the world's biggest arms companies?"
Clear message at #DisarmChurchHouse this morning... powerful prayer/presence @PutDownTheSword@DisarmQuaker@ICN_UKpic.twitter.com/JKJoZZf7nM

— Pax Christi (@paxchristiuk) June 30, 2015
Church House is a subsidiary of the CoE-controlled Church House Corporation, the president of which is the Archbishop of Canterbury. But it also serves as the administrative hub of the Archbishops' Council, the Church Commissioners and other parts of the CoE.
Symon Hill of Campaign Against Arms Trade's (CAAT) Christian Network said these arms companies are not hiring CoE venues to support the Church's work.
"They are doing it because it's good for business. Unfortunately, Church House is giving practical support and a veneer of legitimacy to an industry that profits from war," he said.
Britain's historic St Paul's Cathedral, which was built in 1673, refuses to rent or offer its premises to any firm involved in the production of arms. The world-renowned baroque church also refuses to accept bookings from companies that receive over 10 percent of their revenue from the production or sale of weapons.
The stark contrast between St Paul's policy and that of Church House has angered campaigners, who are calling for the Archbishop of Canterbury to intervene.
Thank you Adam for celebrating with us #DisarmChurchHouse@ChristianCND@GreenChristian_@Ekklesia_co_ukpic.twitter.com/ME04spww2Y

— Pax Christi (@paxchristiuk) June 30, 2015
Emma Anthony, of Fellowship Reconciliation, urged the Archbishop to reject the arms trade "for good."
"Church House's hire conditions state that not all events are appropriate to the venue; surely this includes arms-funded events?" she said.
CAAT says the Church's policy of hosting weapons dealers normalizes the arms trade and legitimizes high levels of military spending, while urgent human needs remain unaddressed in Britain. The charity launched a petition on Tuesday afternoon, demanding that global arms dealers be removed from Church House. It had attracted 1,035 signatures at the time of publishing.
The RUSI Land Warfare conference is due to come to a close on Wednesday evening. Church House also hosted arms firms in July 2014. While Christian activists opposed the move, petitioned the conference center and wrote to the Archbishop of Canterbury, their calls failed to yield a policy shift.
In 2012, the CoE also came under fire after its pensions board invested £60 million in hedge funds. Commenting on the Church's investment policy at the time, senior clergy accused the hedge funds industry of exacerbating the 2008 global financial crisis and pushing up food prices worldwide.