US credit card debt skyrockets, approaching $1 trillion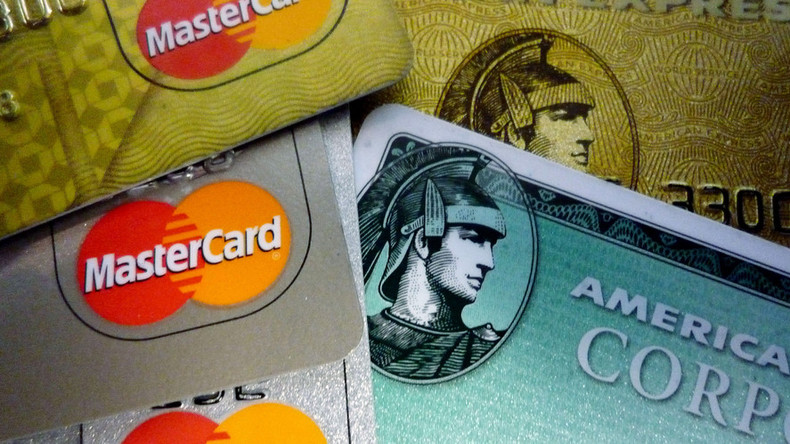 A new study from CardHub.com says credit card debt in the US has jumped by about $71 billion to $917.7 billion in 2015. The average American household with credit card debt now owes $7,879, which is the highest figure since the 2008 financial crisis.
CardHub.com says $7,879 is just $500 from an "unsustainable tipping point", when the risk of mass defaults rises dramatically.
The $71 billion debt ballooning last year is 24 percent higher than in 2014. The fourth quarter of 2015 alone saw credit card debt load surge to $52.4 billion. In the entire 2014 total credit card debt amounted to $57.4 billion.
"With seven of the past 10 quarters reflecting year-over-year regression in consumer performance, evidence is mounting to support the notion that credit card users are reverting to pre-downturn bad habits," said CardHub.com CEO Odysseas Papadimitriou in a statement. "All of this has us wondering: Is 2016 the next 2008 for credit markets?" the statement added.
According to the Fiscal Times estimates, if credit card debt in the US continues to grow at the current pace, American consumers would have to pay down their debts at a record rate to prevent escalated defaults and tightened credit availability.
"While credit card debt levels are trending significantly upward, charge-off rates remain near historical lows and are, in fact, down on a year-over-year basis. Something clearly has to give, and it does not seem to be our spending habits," says the report from CardHub.
While some analysts say the rising credit card debt is good, because consumers are spending more money, others say it's just an indicator that more people are working.
According to CNBC data, the US economy employed an additional 2.45 million people in 2015 with more than 400,000 jobs created as of February this year. The unemployment rate in the US is now 4.9 percent, the lowest level since the end of 2007.
However, wages aren't growing - the American labor force earned three cents less an hour last month.
"The drop in February [wages] was pretty sharp. The wage situation does not get as much attention as the headline number and the unemployment rate, but it's evidence that the economy is basically flatlining," David Santschi, CEO of TrimTabs Investment Research told CNBC.
You can share this story on social media: