Turkey wants Russian tourists back amid 'sudden' industry decline – PM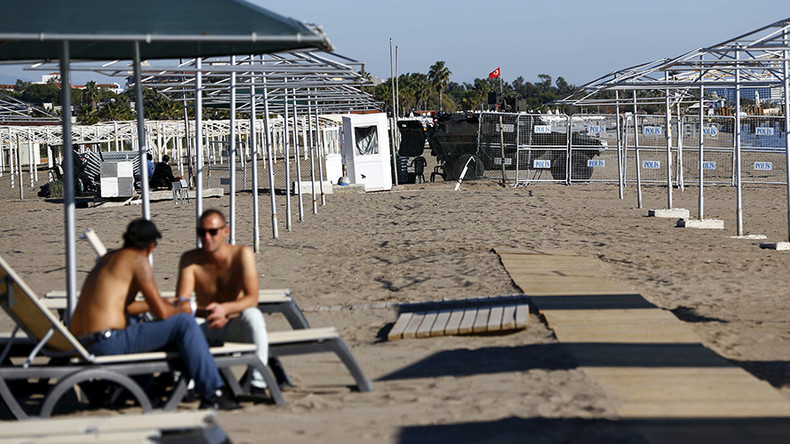 Turkish PM Ahmed Davutoglu said the government expects Russian tourists to come despite tensions between Ankara and Moscow, as shrinkage in the sector was "unexpected." Russia earlier urged tourists not to visit Turkey, citing security concerns.
Speaking at a news conference on Monday, Davutoglu announced an action plan to provide support for the tourism industry, including an $87-million government grant and setting up a facility to allow travel firms to restructure their debts.
"We believe Russian tourists will start coming back to Turkey," he was quoted as saying by the Daily Sabah, an English-language newspaper published in Turkey. Davutoglu added the current political tensions between Ankara and Moscow should not impact Russian "guests" who visit the country.
The government did not expect any shrinkage in tourism stemming from this issue, he added.
Russia imposed economic sanctions on Turkey after an Su-24 bomber was shot down by Turkish F-16s over Syria. In November 2015, the Russian government banned all charter flights to Turkey.
Russia's travel industry watchdog Rosturism recommended all national agencies to stop selling tours to Turkey, citing security concerns. Islamic State (IS, formerly ISIS/ISIL) militants were planning to take Russian tourists hostage and use them as human shields, the agency said.
In January 2016, Russia introduced a visa regime for Turkish nationals, while Turkey's top resorts were left practically empty due to a dramatic decline in the number of Russian tourists.
Turkey has been the Russian people's number 1 foreign tourist destination for many years. Its southern beach towns of Antalya and Alanya, favored by Russians, provided an all-inclusive service at affordable prices.
Tourism funds more than half of Turkey's current account deficit, which is seen as one of the country's biggest economic weaknesses.
TUI, the world's largest tour operator, this month reported a 40-percent fall in summer holiday bookings to Turkey, with customers deterred by security concerns, according to the Financial Times.
Turkey's tourism industry also expects to see losses in other markets this year, after an IS suicide bomb attack in Istanbul's top tourist spot, Sultanahmet, which killed 11 German tourists on January 12. This has resulted in decreasing numbers of Germans visiting Antalya, the Hurriyet Daily reported.
You can share this story on social media: