Rosneft should be privatized at $100 per barrel – CEO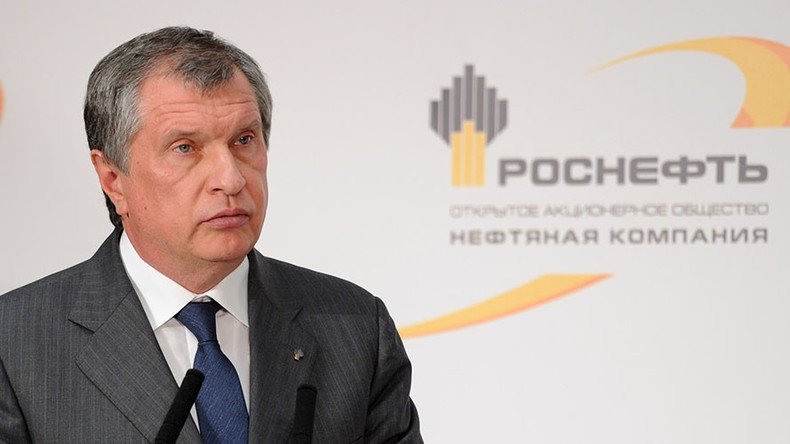 With oil prices plunging, it's not the right time for the Russian government to sell part of its stake in Rosneft, according to CEO Igor Sechin. The sale of 19.5 percent of the state's 69.5 percent in the oil major has been on the Kremlin's agenda for a number of years.
Crude prices have plummeted from $115 per barrel in mid-2014 to January's 12-year lows of $27 per barrel. In recent days oil has been trading at $30-$31 per barrel.
While Rosneft's stock price in rubles has increased slightly from 250 to 260 rubles during this period, the collapse in the Russian currency has had a negative effect on the value of the company. In dollar terms Rosneft stock fell from $7.55 per share in 2014 to $3.29 per share as of Thursday's trading on the London Exchange.
However, Sechin said he understands the importance of solving Russia's budget issues, and the company is ready for any decision from the government.
BP CEO Robert Dudley has agreed with Sechin and said it's too early to privatize Rosneft. The British energy major holds a 19.75 percent stake in the Russian company.
Rosneft has been included in a list of state-owned assets to be privatized in 2016. Finance Minister Anton Siluanov said in January that the oil company is the number one candidate for privatization.
According to Siluanov, 19.5 percent of Rosneft shares should be sold for 500-550 billion rubles, but not cheaper than 500 billion rubles (about $6.25 billion at the current exchange rate). As of Tuesday, the share is worth 546 billion rubles. Thus, after the transaction, the state will control 50 percent plus 1 share.
Previously, Rosneftegaz, a company through which the state owns 69.5 percent of Rosneft, said the privatization should take place with the stock price no lower than $8.12 per share, the cost of the TNK-BP deal between Rosneft and BP.
With collapsing oil prices, Russia is looking to privatize state companies to cut the budget deficit. Last week, President Vladimir Putin said all the privatization deals should be fully transparent with assets sold at realistic, not discount prices. He also said the state should retain control over strategic enterprises to prevent privatized assets leaving Russian jurisdiction.
You can share this story on social media: