Iran to purchase 118 Airbus planes & set up joint venture with PSA Peugeot Citroen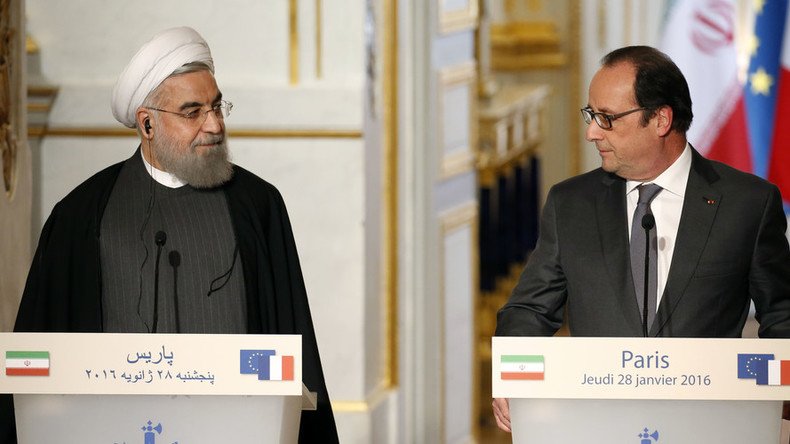 Iran will buy 73 long-haul and 45 medium-haul Airbus passenger planes and set up a joint venture with French car-maker Peugeot Citroen. Both deals are part of a total of 20 agreements signed after a meeting between the presidents of Iran and France.
The French presidency estimates the total value of the signed deals is €30 billion ($32.8 billion). The accord with Airbus alone is worth €22 billion ($25 billion), according to AFP.
It covers the acquisition of 118 new airliners, 73 of them wide-bodied, including 12 A380 superjumbos, and 45 single aisle planes. The agreement also includes Airbus providing pilot and maintenance training as well as support services "to help the entry into service and efficient operations of these new aircraft."
Another deal between Iran and Airbus envisages "comprehensive co-operation" inmodernization of the Iranian civil aviation sector, including the development of "air navigation services (ATM), airport and aircraft operations, regulatory harmonization, technical and academic training, maintenance, repair and industrial cooperation."
"Today's announcement is the start of re-establishing our civil aviation sector into the envy of the region and along with partners like Airbus we'll ensure the highest world standards," Farhad Parvaresh, Iran Air Chairman and CEO, said in commenting on the deals with Airbus.
"The skies have cleared for Iran's flying public and Airbus is proud to welcome Iran's commercial aviation back into the international civil aviation community. Today is a significant step in the overhaul and modernization of Iran's commercial aviation sector and Airbus stands ready to play its role in supporting it," Fabrice Bregier, Airbus President and CEO, said, according to the company's press release.
In accordance with a separate agreement, French companies Aeroports de Paris and Bouygues SA will lend assistance to Iran in the construction of a new terminal at Tehran's main Imam Khomeiny airport with another company, Vinci SA, renovating and running airports in Mashhad and Ispahan, which are the second and the third most populous cities in Iran respectively.
PSA Peugeot Citroen signed a deal with an Iranian automaker, Khordo, concerning the creation of a joint venture to produce cars in Iran, according to a press release published on the company's website. The €400 million deal ($430 million) envisages the yearly production of 200,000 cars, with mass production expected to start in late 2017.
Peugeot will have a 50 percent shares in the new plant, with Khordo holding the remaining 50. Peugeot was forced to break off ties with Iran and suspend its sales there in 2012 due to sanctions, thus losing its biggest market outside France, as well as 10 percent of its global deliveries, and interrupting a 50 year-long relationship, Reuters reports.
In addition, French oil giant Total SA signed a deal covering the purchase of Iran's crude oil, Bloomberg reports.
French Prime Minister Manuel Valls said the two countries also reached agreements in the areas of agriculture, health, and the environment. "France is available for Iran," he said to Rouhani in the presence of senior executives from French companies interested in doing business with Iran, AP reports.
"Let's forget past differences and start anew," Rouhani told the French-Iranian business forum, as quoted by Reuters.
Meanwhile, Air France and Dutch airline KLM have expressed readiness to resume flights to Iran. British Airways officials visited Tehran earlier this week to discuss the resumption of flights, AP reported, citing Mohammad Khodakarami, the deputy head of Iran's civil aviation authority.
All of the deals were signed during a ceremony in the Elysee Palace after talks between Iranian President Rouhani and his French counterpart, Francois Hollande.
"A new era in our relationship starts today," Hollande said at a press conference with Rouhani.
France's president stressed that the relationship between the two countries would depend on Tehran keeping its commitments under the nuclear deal with six world powers. In response, Rouhani assured his French counterpart that Iran would stick to its commitments.
Earlier this week, Iran and Italy signed deals worth up to $18 billion, which included agreements in oil exploration, agriculture, infrastructure development, and automobiles.
The trip to Italy and France was the Iranian leader's first visit to Europe since the EU lifted the sanctions against his country on January 16 after the UN nuclear watchdog confirmed that Iran had fulfilled all its obligations under the nuclear agreement.
Iran regained access to some $32 billion in frozen assets shortly thereafter.
You can share this story on social media: