Iran on European shopping spree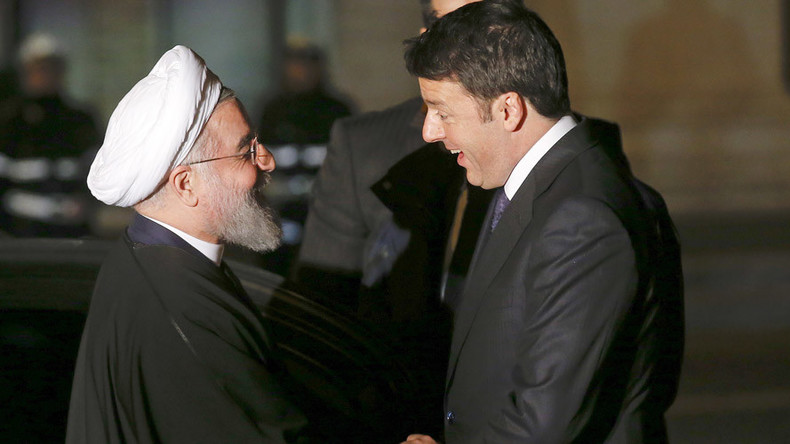 Iranian President Hassan Rouhani arrives in Paris on Wednesday as part of his first European tour since the lifting of Western sanctions against the Islamic Republic.
Rouhani is expected to meet French President Francois Hollande at the Elysee Palace on Thursday to discuss renewing cooperation between the two countries.
READ MORE: Iran to buy 114 Airbus planes, but no deals with Boeing
The Iranian President is expected to sign a new round of commercial agreements, including one to buy more than 100 Airbus commercial airplanes. Oil and gas deals are also reportedly on the agenda.
Nearly 150 French business representatives primarily from the oil and gas industries visited Tehran in September to discuss future investment with senior Iranian officials.
READ MORE: Tehran to recoup $32bn in unfrozen assets as sanctions lifted
Earlier this week Iran and Italy signed deals worth up to $18 billion, which included agreements in oil exploration, agriculture, infrastructure development and automobiles.
Iran's market "offers Italian and European investors the opportunity to establish themselves in the entire region," according to President Rouhani.
Out of respect to Rouhani, the Italian government ordered nude sculptures on display at Rome's Capitoline Museums to be covered. The Roman statues located on the President's way to the conference hall were covered with wooden panels not to offend the guest. The decision was met with public ridicule.
Sanctions against Tehran were officially removed on January 16 after the UN nuclear watchdog said Iran had fulfilled all obligations under its deal with six world powers. Shortly after that the Iran regained access to $32 billion in frozen assets.
You can share this story on social media: