Tehran bans re-export of Turkish goods to Russia, aims for tighter economic ties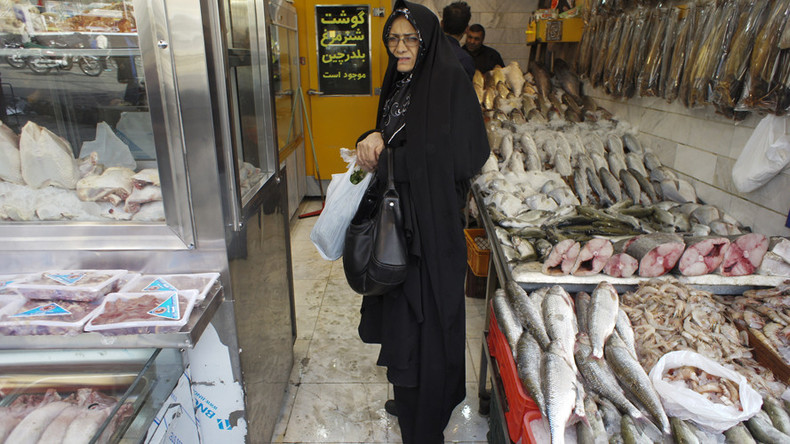 Iran has issued a decree forbidding the re-export of Turkish products banned by Russia, as the country reemerges from a decades-long economic blockade and aims for tightening cooperation and establishing a foothold on the Russian markets.
The order issued by the Iran Trade Promotion Organization (TPOI) said that re-exports in Russia of Turkish goods which fell under tough sanctions by Moscow after Ankara downed an Su-24 bomber in Syrian skies, is against the country's export policies and priorities.
"According to a decree issued by the Iranian Trade Minister Mohammad Reza Nematzadeh, re-export of Turkish products to Russia from Iran's soil is forbidden," Iran's IRNA news agency quoted the official as saying.
According to TPOI Deputy Director Mohammad Reza Movadvadi, Iranian businessmen should make use of the good political relations between two states and capitalize on bilateral production and trade, IRNA news agency reported. At the same time, Movadvadi warned that if goods originating from Turkey continue to end up on the Russian market via Iran, Moscow could eventually impose restrictions on exports from Iran, which would only damage the cooperation.
After the lifting of international sanctions under a historic nuclear deal earlier this month, Iran is looking for ways to expand into world markets. The Iranian delegation is already in Moscow looking to secure new economic contracts with Russia. Leading the delegation, that has already met with representatives of more than 50 Russian companies, is Mina Mehrnoush, the head of planning at the Organization for Trade Development of Iran.
"First, the international sanctions imposed on our country are now gone. Secondly, Russia's relations with a number of its traditional trading partners are not good, which gives the Iranian firms a chance to establish a foothold in the Russian market," Mehrnoush told Sputnik.
Mehrnoush said that his country wants to secure business ties in construction and construction materials, oil refinery and textiles, in addition to food products. "Iran wants to find a niche for itself in all these segments of the Russian economy," Mehrnoush stressed.
The Iranian delegation that is in Moscow as part of the Russian-Iranian Trade Council, also extended its country's welcome to Russians wishing to visit Iran to resurrect the country's tourist industry.
Earlier, the Director of the Organization of Industry, Trade and Mines in the Iranian province of Mazandaran, Mohammad Mohammadpour noted that Persian producers are ready to replace products previously offered by the Turkish side. The director noted that Iran is one of the market leaders in pistachios, dates and saffron.
"Our climate enables farming all year around. That is confirmed by the figures: Today Iran is among the ten largest producers of fruits and vegetables in the world," Mohammadpour told Sputnik. In a separate interview with Sputnik, Hedayat Asghari, the executive director of the Iranian Trade Association said that Iranian food products will include fruit, meat and fish.
At the same time, Mohammadpour noted that Iran is not exploiting the tense political climate between Ankara and Moscow in its rapprochement with Russia. Rather, he argued, a potential increase in trade volume stems from historic ties.
"Those who say Iran is solely using the current political environment and seeking to conquer the Russian market in this way, are wrong," he argued. "The history of relations between our peoples goes back to the distant past. We are geographically separated, but economically united by the Caspian Sea."
You can share this story on social media: