Moscow lawyers up to take Kiev to court over debt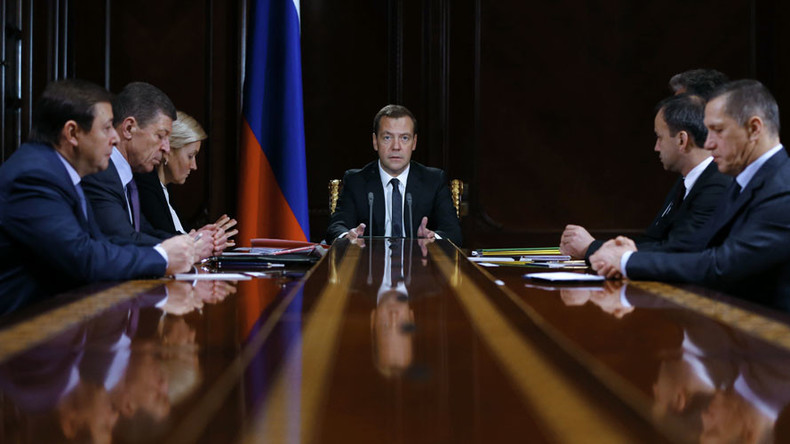 Russian Prime Minister Dmitry Medvedev has ordered the Cabinet to get lawyers ready to prepare to fight Ukraine in court over its $3 billion debt to Russia.
"There's no doubt that Kiev won't pay," Medvedev said on Monday at the meeting of Cabinet ministers. He added that Russia should recover Ukraine's debt along with penalties.
He said the repayment deadline expired on December 20, signifying Ukraine is in default.
Kiev still has a 10-day grace period during which it could pay the debt without penalty, said Medvedev.
"But due to the statements from Ukrainian officials, they are not planning to do that. Accordingly, a de facto default will happen in 10 days," added the Prime Minister.
He also said he had signed a decree to introduce economic measures (starting from January 1) as the economic part of Ukraine's Association Agreement with the EU kicks in. "We need to protect the Russian market, our producers and prevent the import of goods [from sanctioned EU countries – Ed.] marked as Ukrainian products," Medvedev said.
On Friday, Kiev imposed a moratorium on Russian debt repayment, saying it was halted until the Ukrainian government "makes restructuring proposals or a relevant court decision comes out." The announcement came ahead of the December 20 deadline.
Earlier this month, Russian President Vladimir Putin ordered the Finance Ministry to file a lawsuit against Ukraine if Kiev failed to pay.
In November Putin proposed restructuring Ukraine's debt. The offer would have delayed Kiev's default and allow it to repay $1 billion per year for three years, from 2016 to 2018. Moscow demanded guarantees from the US, EU, and international financial organizations on future payments of the Ukrainian sovereign debt. None were given.
Ukraine's sovereign debt to Russia dates back to a deal between President Putin and former Ukrainian President Viktor Yanukovich struck in 2013 which envisaged Moscow buying $15 billion worth of Ukrainian bonds. In December 2013 Russia bought $3 billion worth of Ukrainian bonds.