Russian airliner to dominate Iranian skies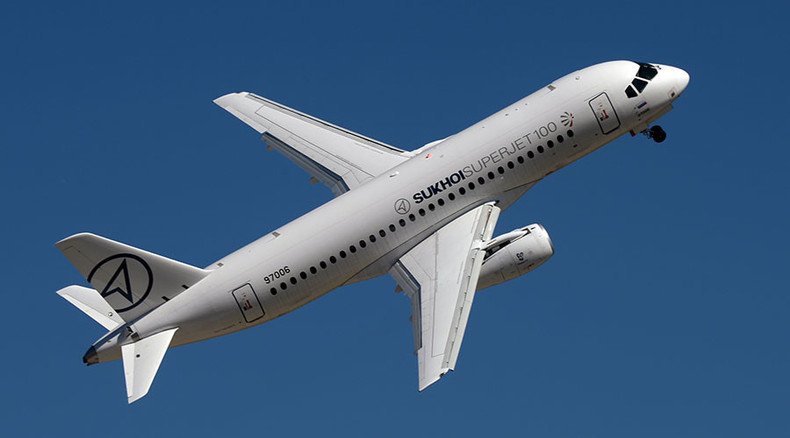 About 100 of Russia's newest airliners could be in service in Iran, according to Deputy Prime Minister Dmitry Rogozin. Moscow and Tehran are negotiating local production of the Sukhoi Superjet 100 (SSJ 100) airliner to replace Iran's ageing fleet on regional routes.
Russia's most modern commercial jet, the SSJ 100, can be in part be localized by Iranian producers if Tehran makes the political decision to purchase ready-made aircraft, Rogozin told Rossiya 24 TV during a two-day trip to Iran.
Iran has a shortage of modern aircraft due to the long running sanctions imposed by the West. Local airlines are looking for reliable regional jets to fly domestic routes. The SSJ 100 might be a match for Iran's needs, with additional options to come along with the prospective deal.
"If Tehran agrees to purchase the Superjet, we will discuss partial localization of production in Iran," TASS quotes Rogozin as saying.
READ MORE: Iran to buy Russian aerospace equipment and planes worth $21bln – report
In Iran, Deputy PM Rogozin visited local aerospace facilities in a city of Isfahan, where several domestically produced aircraft were on display. He suggested that the facility was capable of running the project.
"Now I am fully convinced that there are all the required resources, given a political decision is made to resume comprehensive industrial collaboration with Russia, in particular in the aviation sector, so that the Iranians can carry out the work on their territory," the Deputy PM added.
Iranian officials say they are interested in an SSJ 100 purchase to bolster the country's aviation industry.
"I hope Russia will cooperate with Iranian airlines with two aircraft being leased to Iran," said Secretary of Technology Development and Knowledge-based Aviation and Aeronautical Industries HQ, Manouchehr Manteghi.
Along with boosting joint aviation projects, Tehran is looking for broader engagement with Moscow in biotechnologies, healthcare and pharmaceuticals – fields where Iranian companies have much to offer.
In September, Iran was discussing a billion dollar deal with Russia to purchase satellite equipment and passenger aircraft. Also, during the MAKS-2015 air show in August it was revealed Tehran was reportedly among the first potential foreign buyers of the Ilyushin Il-76MD-90A (Il-476) turboprop military transport aircraft, exports of which is expected to begin in 2017.
READ MORE: Russia & Iran to open joint bank
Sukhoi Superjet 100 is Russia's newest twin-engine regional passenger aircraft which began operating commercially in 2011. More than 60 aircraft are in service with airlines in Laos, Mexico, and Russia.
You can share this story on social media: