Turkey's markets, currency soar on election results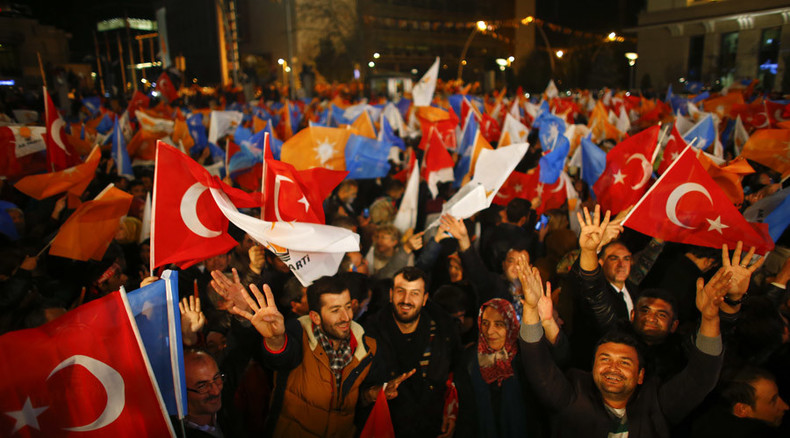 The Turkish lira and stocks rallied on Monday, following the victory of President Recep Tayyip Erdogan's Party in the national election.
In its biggest jump since 2008 the lira was up 3 percent against the US dollar to 2.8158. This year the Turkish lira has been one of worst-performing currencies in the world. Political instability and the previous failure to form a coalition government undermined the lira.
"This election will end Turkey's period of transition, and should lead to a marked strengthening of the country's economy," said FXstreet analyst Valeria Bednarik.
The Borsa Istanbul 100 Index surged 5 percent in morning trading, to its highest level since July with the biggest one-day gain in two years.
On Sunday Erdogan's Justice and Development Party (AKP) regained a majority in the second general election of the year. The AKP won almost half the vote, giving it around 315 seats in the 550-seat parliament. The party will now to rule till 2019.
In the June election the AKP failed to secure enough parliament seats to form a majority government for the first time in almost 13 years. President Erdogan then called for new parliamentary elections on November 1.
READ MORE: Turkish Stream postponed over political crisis in Ankara
The formation of a new government in Ankara could be good news for the Turkish Stream project. In mid-June Moscow and Ankara halted talks on constructing the gas pipeline project which is to supply Turkey and Southern Europe with Russian gas. Russia's Gazprom said it expected the deal to be signed once a new Turkish government is formed.