France wants to sell warships to Russia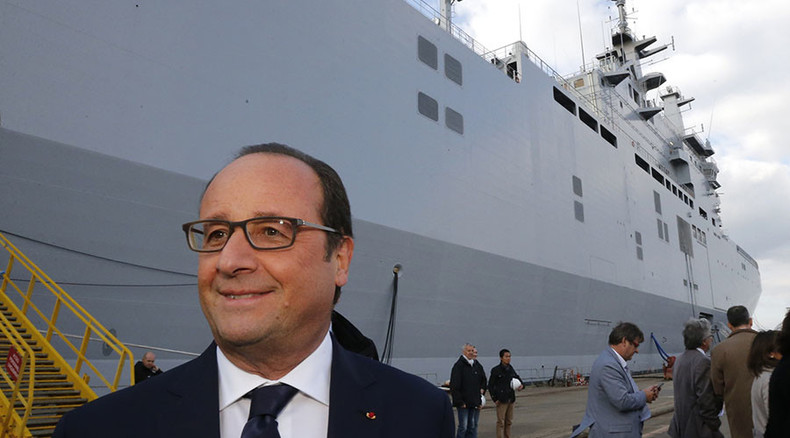 Despite the Mistral debacle French President Francois Hollande says he expects to sell new warships to Russia in the future, Associated Press reported. His suggestion comes less than two months after France cancelled a deal to deliver two Mistral helicopter carriers to Russia.
"Things went well with Russia, which has agreed to cancel the contract. And I even think we'll get partnerships for new ships," Hollande was cited as saying on Tuesday during a visit to the Saint-Nazaire shipyard in western France.
He went aboard of one of the warships, built for Russia and originally named Vladivostok. The nameplate in honor of Russia's Far East port has already been painted over.
The $1.3 billion Mistral deal between Moscow and Paris was signed in 2011. Under the terms of the agreement, two French helicopter carriers were to be delivered to Russia, with the first in 2014 and the second in 2015. Russia was to partly manufacture the hulls and provide its own electronic equipment for the warships.
The French government decided not to hand the vessels over to Moscow, following Crimea's reunification with Russia and the outbreak of the armed conflict in Eastern Ukraine.
In September, Paris announced it was selling the Mistrals to Egypt for a reported €950 million. The cost is the same amount of money paid to Moscow as compensation for cancelling the deal. The carriers are to be delivered to Egypt in March 2016.
READ MORE: Confirmed: France canceled Mistral deal with Russia under pressure from NATO
Members of the French Senate's International Affairs Committee said last month that France had pulled out of the Mistral deal with Russia because of external pressure from NATO.
The Mistral deal would have been one of the biggest arms contracts between Russia and a NATO member.
You can share this story on social media: