Ruble rebounds on surging crude price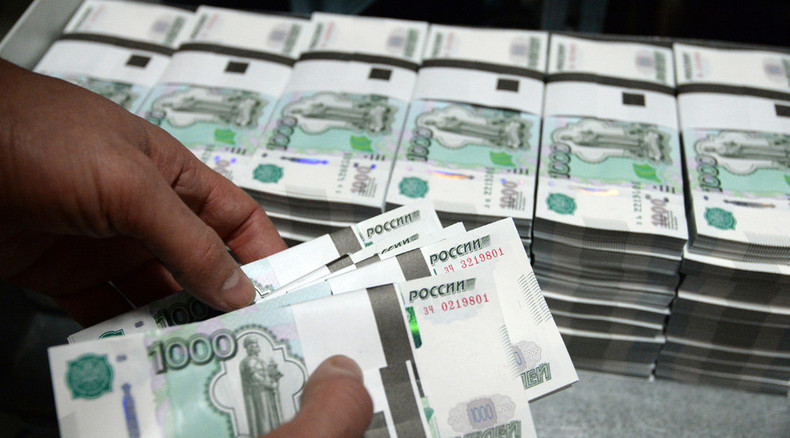 The Russian ruble continued to strengthen its position on Wednesday, trading at 62.35 to the US dollar, and 70.07 to the euro on the Moscow Stock Exchange as of 1:00pm MSK.
It's the third trading day in a row in positive territory for the Russian currency. Last time the ruble was below 63 was almost two months ago.
Analysts say the ruble's rebound comes on the back of rising oil prices. Crude began climbing on Tuesday after the US cut output forecasts and big producers signaled joint action to support the oil market.
The Energy Information Administration said in its monthly outlook that US crude production fell 120,000 barrels a day in September from a month earlier. It is the lowest level since September 2014, at 9 million barrels a day.
READ MORE: Ruble rallies amid global uncertainty
Prices have also been supported by the possibility of a meeting between Russia and the Organization of the Petroleum Exporting Countries (OPEC).
"The market is possibly moving on speculation that OPEC and non-OPEC countries will find an agreement to cooperate," Carsten Fritsch, senior oil analyst at Commerzbank in Frankfurt told CNBC.
At a Tuesday conference in London, OPEC's chief Abdullah al-Badri said OPEC and non-OPEC members should work together to reduce the global supply glut. He added that oil prices were set to rebound as steep cuts in global oil investments have crimped supplies.
The global benchmark, Brent futures were up 30 cents on Wednesday to $52.22 per barrel. West Texas Intermediate (WTI) increased by 64 cents to $49.17 a barrel.
Some experts say the situation can change dramatically at any time. Foreign markets are volatile, which means that the oil rally can dissolve rapidly and impact currencies.