German factory orders fall as global growth slows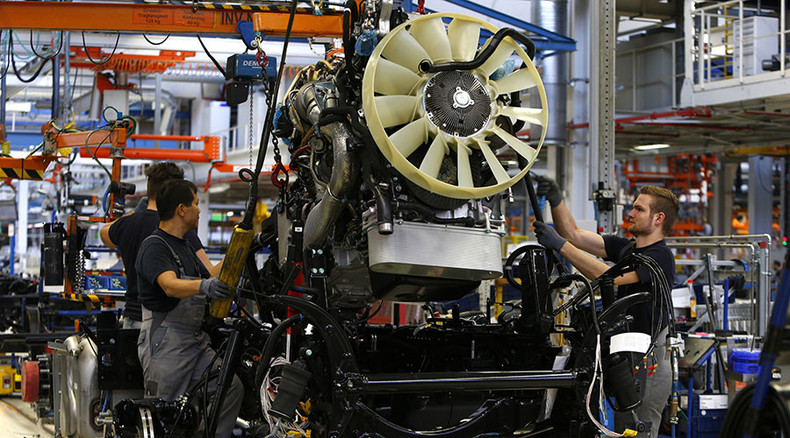 August German factory orders slid unexpectedly for the second month running; a sign Europe's largest economy is being hit by slowing global growth. Orders dropped 1.8 percent in August after falling 2.2 percent in July, according to the Economy Ministry.
Germany's export-driven economy has been challenged by the slowdown in China and other emerging economies. Making the situation worse, the August figures do not yet reflect the impact of the Volkswagen emissions scandal which could affect 11 million vehicles worldwide as well as future sales of diesel cars.
"While order data in August was overall disappointing, it's too early to fall into a panic about the economy because orders from within the country and the currency union amid all the volatility still point upward," economist at Bayerische Landesbank in Munich Stefan Kipar told Bloomberg. "However, a high uncertainty about China and the cooling of the Chinese economy has left its mark," he added.
Orders from other countries in the euro area were up 2.5 percent following a smaller gain in July, the Economy Ministry said in a statement. However, domestic demand was off 2.6 percent and orders from outside the eurozone dropped 3.7 percent.
The Ministry explained that demand from countries beyond the euro area appears to be "less reliable at present."
READ MORE: China's factory activity lowest since 2009
Waning Chinese industrial demand has forced Henkel to cut 1,200 jobs at its adhesives unit as it adapts capacity, according to Bloomberg. While most of the layoffs are expected in Asia, 250 jobs will be cut in Europe and 100 in Germany.
READ MORE: German prosecutors investigate former VW boss
The German auto industry is also waiting to feel the impact of last month's VW emission cheating scandal. Chairman Hans Dieter Poetsch warned that the diesel emissions scandal could pose "an existence threatening crisis for the company," which faces a Wednesday deadline to present a plan to fix some 2.8 million vehicles in its home market.