China capital flight hits record high as yuan plunges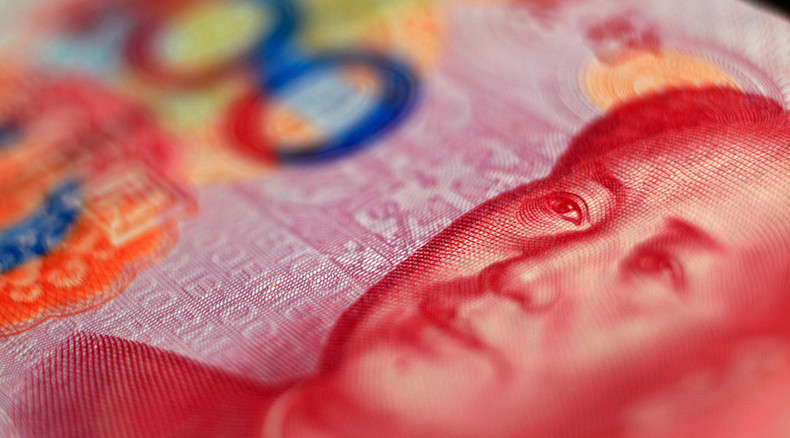 China's capital outflow hit a record $141.66 billion in August as a result of the country's biggest currency devaluation since 1994, according to data compiled by Bloomberg.
The pullout of money from the country exceeded the previous record of $124.62 billion in July, Bloomberg's so-called "hot money" gauge showed. It is an estimate of the sum of foreign exchange purchases by banks and the change in foreign exchange deposits to measure flows into and out of the country.
READ MORE: China stages biggest currency devaluation in 20 yrs to revive exports
The outflow accelerated in August following China's shock devaluation of the yuan. The Central Bank of China has cut its daily reference rate by 1.9 percent, its biggest downward adjustment in 20 years. The aim, it said, was to revive faltering exports.
Beijing has ramped up efforts to support the slowing economy and an almost 40 percent stock market drop since late June. The government cut interest rates for the fifth time since November and pledged to support the market by buying shares. However, the measures did not stop factory activity contraction, which hit a six-and-a-half year low in September, the worst result since March 2009. Concerns over the world's second biggest economy slowing down made investors turn to safer assets.
Meanwhile, experts have different forecasts on the issue.
"My worry is that, given the relatively large economic downward pressure, as China is opening up the capital account, it means more money will leave China," a PBOC adviser and Peking University economics professor Huang Yiping was cited as saying by Bloomberg. "If there's an overall capital outflow in the future, it will bring depreciation pressure."
"The current capital outflow is just a temporary market reaction," said Sheng Songcheng, head of the PBOC's statistics and analysis department. He claimed that China's economic slowdown, rising debt level and stock market swings all can cause short-term panic for investors, adding that the yuan will not depreciate continuously.