Global stocks slide on Fed uncertainty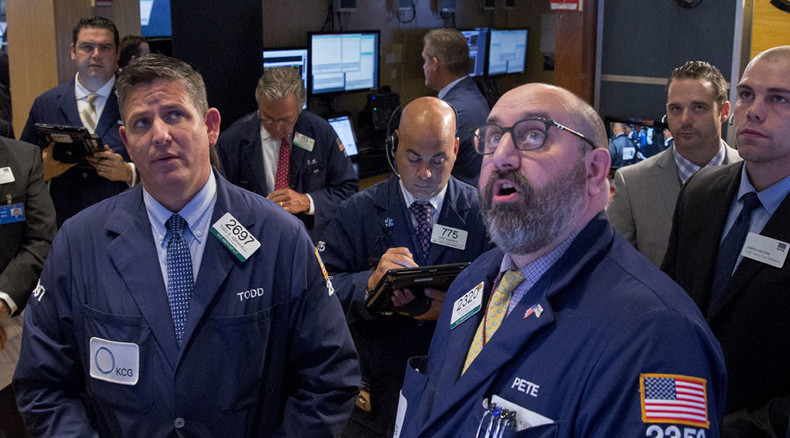 The decision by the US Federal Reserve not to raise interest rates has increased international market concerns about the health of the global economy. A broad market selloff followed around the world.
Wall Street opened lower with the Dow Jones Industrial Average, the S&P 500 and the Nasdaq Composite over one percent lower.
Markets in Europe took a beating on Friday with Germany's DAX and the CAC 40 Index in Paris losing over two percent and London's FTSE down almost one percent, as of 15:00 GMT.
"The signaling by the Fed yesterday doesn't see confidence to pull the trigger to raise from zero to 25 basis points, I think its negative sentiment that's hitting the market," Art Hogan, chief market strategist at Wunderlich Securities told CNBC. "I think they've done more harm than good."
Others disagree.
"Ultimately, the Fed did the right thing by holding," said the CEO of The Earnings Scout Nick Raich.
READ MORE: Fed doing nothing keeps ruble afloat
The main indices on the Moscow Exchange were trading lower on Friday. The dollar-denominated RTS index and the ruble-traded MICEX were losing under one percent, as of 15:00 GMT.
Most Asian markets traded flat managing meager gains, but Japan's Nikkei lost almost two percent.
On Thursday, the US Federal Reserve kept interest rates unchanged as it was worried about the global economy, financial markets volatility and flat inflation at home.
READ MORE: US interest rate hike likely by end of 2015 – US Fed
"In light of the heightened uncertainties abroad and the slightly softer expected path for inflation, the committee judged it appropriate to wait for more evidence, including some further improvement in the labor market, to bolster its confidence that inflation will rise to two percent in the medium-term," Fed Chair Janet Yellen said at a news conference after the two-day policy meeting.
Concerns over a possible rate hike have been disturbing global markets since July when Janet Yellen indicated a rise could happen as early as September. Rates in the US have been held at near zero since December 2008. The International Monetary Fund cut its growth outlook for the US economy in June and called the Federal Reserve to wait until 2016 before increasing interest rates. A US rate rise poses "tough challenges" for developing and emerging economies, the World Bank warned, as borrowing would become more costly for them.
The Fed's next policy meetings are scheduled for October and December.