'It's a bloodbath': Markets plunge worldwide after biggest slide in Chinese stocks since 2007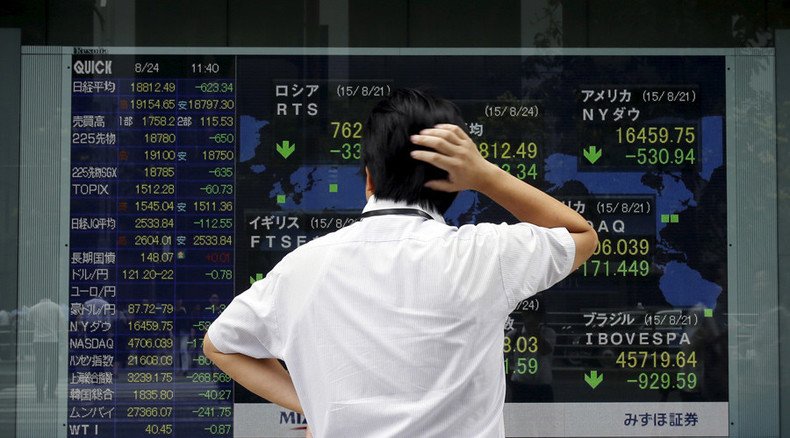 World stock markets plummeted on Monday as the Shanghai composite closed down 8.5%, marking the biggest slide in Chinese stocks since 2007. The brutal sell-off comes despite Beijing's measures to arrest the decline.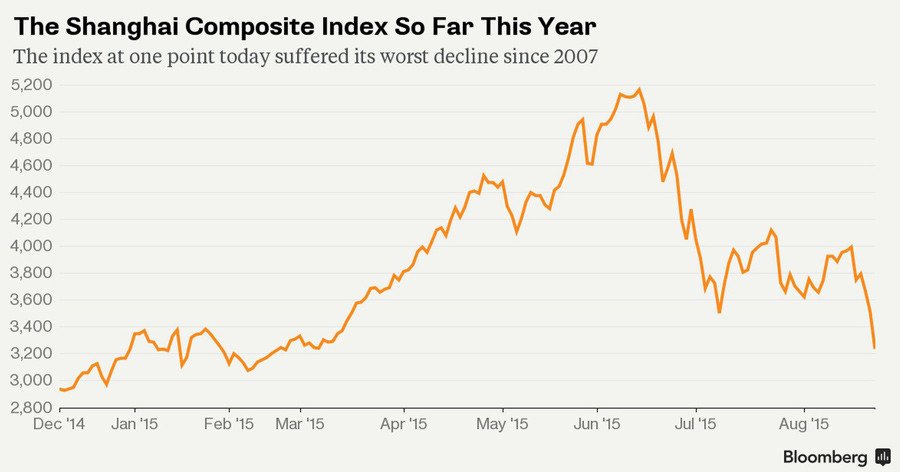 "This is a real disaster and it seems nothing can stop it," Chen Gang, Shanghai-based chief investment officer at Heqitongyi Asset Management Co., told Bloomberg. "If we don't cut holdings ourselves, the fund faces risk of forced closure. Many newly-started private funds suffered that recently. I hope we can survive."
Asian markets followed China with a broad sell-off.
Japan's Nikkei closed down 4.6%, Hong Kong's Hang Seng was 5.17% in the red, and Mumbai's Sensex is down nearly 6 percent.
Ripple effects were felt in European markets on Monday as well. The STOXX Europe 600 Index dropped 5.3%, suffering its worst percentage loss since 2008.
London's market closed with the FTSE 100 Index slumping 4.6% to 5.9 on Monday – its biggest loss since 2009. Germany's DAX shed 4.7% percent, finishing below 10,000 for the first time since January, according to Market Watch.
As in August 1997, 1998, 2007 and 2008 we could be in the early stage of a very serious situation.

— Lawrence H. Summers (@LHSummers) August 24, 2015
Meanwhile, France's CAC fell 5.4% to 4.4, suffering its worst session since November 2011.
Commodities are down across the board, with Brent crude trading below $44 per barrel, a six-and-a-half-year low.
On Friday, the US WTI crude benchmark dropped below $40 per barrel in an eighth straight weekly decline, the longest falling streak in almost 30 years.
READ MORE: WTI crude drops below $40 first time since 2009
The Russian ruble has fallen to its lowest level since February against major currencies, dragged down by both weak oil and Chinese stocks. The ruble was trading at over 71 rubles against the US dollar and 81.78 rubles against the euro as of 09:25 GMT.
Equity markets in Moscow are in the red with the RTS losing 5.51 percent and the MICEX down over two percent as of 09:25 GMT.
US Dow Jones industrial futures are down by more than 600 points, and S&P futures down nearly 60 before opening bell on Wall Street.
LISTEN MORE:
Latin American stock markets mirrored the downtrend, plunging to their lowest in 22 years, according to Bloomberg. The JP Morgan Latin America Currency Index (LACI) reached its lowest level since November 1922 on Monday.
READ MORE: Global markets enter correction on China fears
Colombia's peso suffered its most severe drop since 2009, falling 3.3%, to a record low of 3.2 against the US dollar. It was joined by Mexico's currency, which decreased by 0.7 percent to 17.1. The Brazilian real weakened by 1.1%, sliding to a 12 year low of 3.5.
The Ibovespa Brasil Sao Paulo Stock Exchange Index (IBOV) continued last week's decline, sliding 3.9 % on Monday to reach its lowest level since January.

"It is a bloodbath," Bernd Berg, a London-based strategist at Societe Generale SA told Bloomberg on Monday. "We see panic selling due to global growth fears and uncertainty about the next Fed move."
Over the last month, the Chinese government has taken drastic measures to stop the stock market's decline. On Sunday, the Xinhua news agency reported that Beijing would allow its main state pension fund to invest up to 30 percent of its net assets in China-listed shares for the first time.
In mid-August, the People's Bank of China devalued the yuan over three consecutive days, stopping at a 4.4 percent overall depreciation. The move intended to help faltering exports sowed panic in the world's equity markets and may have started a new wave of currency wars.
READ MORE: Biggest slowdown in Chinese manufacturing in 6yrs
The real Chinese economy has been showing signs of slowing growth. In a report published last Friday by Caixin and Markit, it became clear that manufacturing has been losing momentum. The Purchasing Managers' Index (PMI), its key indicator, saw a fall to 47.1 from 47.8 in July. This is the lowest level since March 2009 and shows a contraction.
LISTEN MORE:
You can share this story on social media: