Global markets enter correction on China fears
Fears of China's economic slowdown have plunged the world's equity markets into correction territory. Weak Chinese manufacturing data rattled investor's nerves leading to Friday's collapse.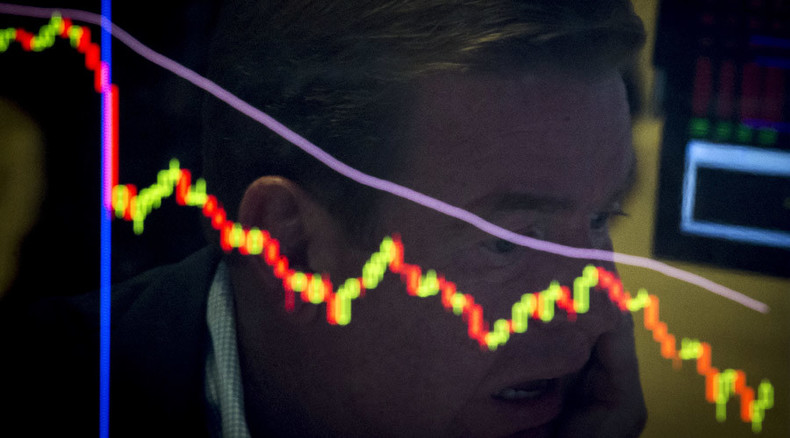 The mauling began in Asia where the key Chinese indices, the Shanghai Composite and Shenzhen Composite closed with 4.27 and 5.39 percent loss respectively. Other Asian markets followed: Hong Kong's Hang Seng fell 1.53 percent (six percent since Monday) and Japan's Nikkei closed almost three percent lower (5.2 percent loss for the week).
READ MORE: Biggest slowdown in Chinese manufacturing in 6yrs
In the US, Wall Street had its biggest one-day drop in four years on Friday leaving the Dow industrials more than 10 percent below a May record. The Dow fell 3.12 percent, and the Nasdaq dropped 3.52 percent. The S&P 500 suffered its biggest daily percentage drop in nearly four years on Friday, losing 64.8 points, or 3.19 percent.
A three-day selloff culminated in Europe's benchmark equity gauge falling 13 percent from its record. Thirteen out of 18 western-European markets have lost 10 percent or more from their highs, with Germany's DAX Index down 18 percent. London's FTSE 100 index recorded its biggest weekly loss this year, losing 5.2 percent since Monday.
And the correction is not over yet, according to investor Bob Doll.
"I think we're rapidly reaching a near-term oversold, from which we'll get a bounce. But I don't believe this corrective period is over yet. Most of the decline is probably behind us from a point standpoint. But I think we have more time to sort this out," the chief equity strategist and senior portfolio manager for Nuveen Asset Management said in an interview with CNBC.
READ MORE: WTI crude drops below $40 first time since 2009
Problems on the global equity markets began even before the news about China's production activity slowdown. About $2.2 trillion was wiped from the value of worldwide stocks in the first four days of the week as the rout in commodities and emerging markets deepened, fueling bearish sentiment.
US oil prices also took a dive on Friday, with WTI crude dipping below $40 a barrel for the first time since the financial crisis and marking its longest weekly losing streak since 1986.
READ MORE: China stages biggest currency devaluation in 20 yrs to revive exports
China has been trying to boost its slowing economy and stabilize the falling stock market. In mid-August Beijing devalued the national currency in an attempt to revive its faltering exports.

You can share this story on social media: