McDonald's sent to Siberia
Published time: 21 Aug, 2015 13:13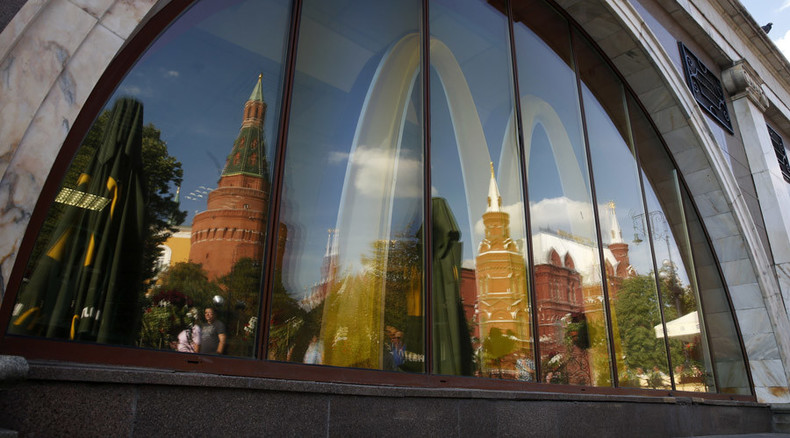 McDonald's Corporation has signed a second franchise deal to open new restaurants in several regions of Russian Siberia.
Under the deal some twenty restaurants will open in the next few years, with an investment of three billion rubles ($44 million), the chief executive of Inrusinvest Yevgeny Zenin who signed the contract, told Russian media on Friday.
The restaurants will be opened in Kemerovo, Novosibirsk, Tomsk and Altai regions. The first fast-food outlet is planned start working in September.
"We are confident that the use of the franchising scheme will be the next step in the successful development of our business and will contribute to a further strengthening of the McDonald's brand in Russia," McDonald's Russia Chief Executive Khamzat Khasbulatov said in a statement, according to Reuters.
The franchise will be the second biggest, since McDonald's first Russian franchising deal in 2012. That saw two fast-food outlets open in Saint-Petersburg's Pulkovo airport.
READ MORE: Happy Meals again: McDonalds reopens flagship Moscow store after 3-month closure

US fast-food chain McDonald's, has been operating in Russia for 25 years. Prior to the franchising deals, all McDonald's restaurants in Russia were corporate-owned. The chain has more than 500 restaurants in 120 Russian cities and services more than a million customers daily.
McDonald's got its first franchisee partner right after the Russian watchdog Rospotrebnadzor started sanitary investigations over McDonald's restaurants across Russia last August. Several Moscow outlets were temporarily closed but reopened three months later.