12 McDonald's restaurants temporarily closed in Russia, 100 inspections underway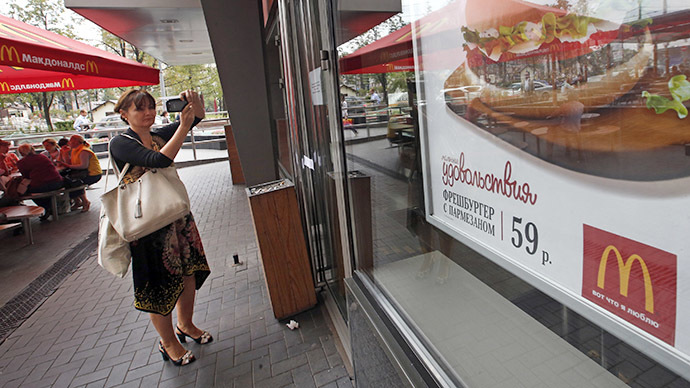 Russia's food safety watchdog has temporarily closed 12 McDonald's outlets across the country as of Friday citing sanitary violations. Meanwhile, the company says it will "modernize" 18 other restaurants in renovations planned for September.
McDonald's says 100 of its 440 restaurants in the country are currently under investigation over alleged sanitation issues.
"We are studying the essence of the claims in order to determine the necessary actions for the swift re-opening of restaurants for visitors," the company said in a statement Friday.
The fast-food giant said it will "do everything it can" to continue operations in Russia.
On the same day the company announced plans to modernize 18 outlets with new technology and decor, it said the closure of the locations in St. Petersburg, Moscow, Perm, Rostov-on-Don, Ufa, and other places will only last a few days.
Russia's consumer quality authority has temporarily closed 12 locations. As of Friday, three McDonald's restaurants are temporarily closed in Moscow, including its first in iconic Pushkin Square, four in Krasnodar, one in Stavropol, two in Sochi, the host of the 2014 Winter Olympics. In the Ural mountain region, McDonald's was closed in the city of Ekaterinburg. A location in Serpukhov, an old military town south of Moscow, has also been closed.
The first investigations into food hygiene at the restaurants took place in Veliky Novgorod in May.
Deputy Prime Minister Arkady Dvorkovich has said recently that Russia has no plans to completely shut down the restaurant chain.
The Illinois-based burger chain franchises the brand to Russian companies and individuals who own and operate the restaurants. Over 35,000 people are employed by the chain in Russia.
McDonald's sold more than $1.5 billion worth of burgers, fries, and shakes to Russian customers in 2013, ranking it the company's seventh largest market outside the US and Canada.
McDonald's draws in over one million customers on a daily basis in Russia, according to its website.
You can share this story on social media: