Global markets down over Fed rate hike uncertainty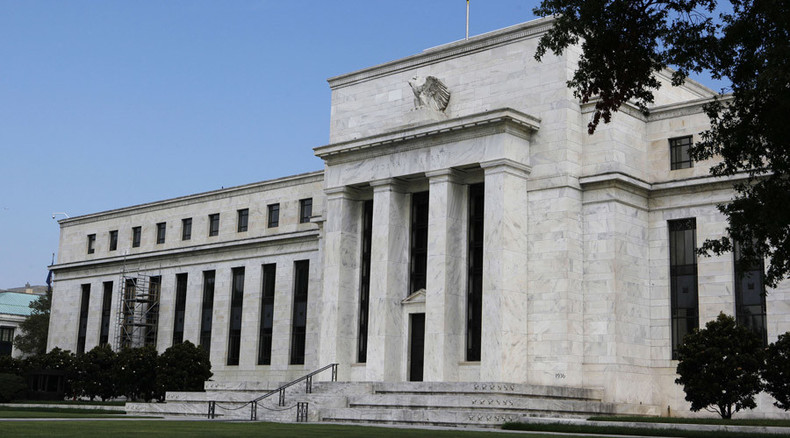 Fading expectations of a US interest rate hike left global markets in the red following the release of US Federal Reserve minutes of the July 28-29 meeting.
The worst performer on Friday was again the Chinese Shanghai Composite index, down 4.27 percent at close. The Hang Seng fell 1.91 percent and the Nikkei plummeted 2.98 percent. German stocks continued their losses and are facing the worst month in more than three years. Trading on the FTSE dropped 0.49 percent as of 7:43am GMT on Friday. The US S&P 500 and Dow Jones also had their worst day since February 2014, closing with a more than two-percent drop.
The report left it unclear whether the Fed will raise rates at the policy meeting on September 16-17, stoking anxiety about the health of the global economy.
"Most [officials – ed.] judged that the conditions for policy firming had not yet been achieved, but they noted that conditions were approaching that point," said the minutes published Wednesday.
This can be interpreted that the Federal Reserve is considering a rate hike in September. However, the Fed has been saying that its rate decision depends on whether inflation will reach the goal of two percent after running below that for more than three years.
"Some participants expressed the view that the incoming information had not yet provided grounds for reasonable confidence that inflation would move back to two percent over the medium term," said the minutes.
The Fed's ambiguity on top of cheap oil and struggling China has created additional problems for emerging economies.
READ MORE: Chinese stocks sink dragging Asian markets with them
"Asian shares tumbled, pressured by lower oil prices and a slowdown in China ... (and) the latest Fed minutes raised concerns over the strength of the global economy, questioning whether rates will be raised next month," David Papier at ETX Capital in London told Reuters.
Daisuke Uno, chief strategist at Sumitomo Mitsui Bank, shares that view. "Markets are nervous of risks and investors are pulling funds out of emerging economies and resource exporters," he said.