Greek bank bonds collapse on bailout promises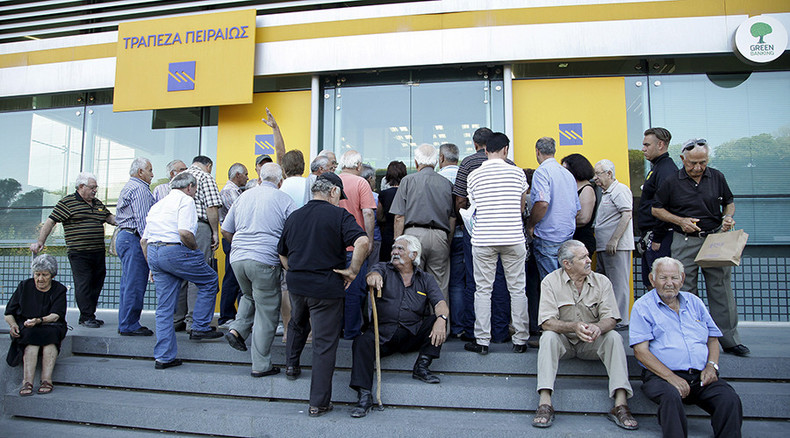 Greece's biggest lenders are seeing their bonds plummet, on the promise of the Eurogroup president to protect depositors from any losses in the €86 billion bailout.
According to Bloomberg, as of 9:30am GMT, Greece's Eurobank senior unsecured 4.25 percent June 2018 bonds were sinking 33 percent to 37 cents on the euro. The second worst performer was Piraeus Bank that saw its senior unsecured 5 percent March 2017 bonds drop 27 percent to 38 cents. Alpha Bank's senior unsecured 3.375 percent notes due June 2017 stumbled 15 percent.
Greece's four banks – National Bank of Greece, Piraeus Bank, Alpha Bank, and Eurobank – account for 91 percent of Greek banking assets.
The decline comes as a reaction to Eurogroup president Jeroen Dijsselbloem's comment on Friday that depositors will be protected from any losses due to the restructuring of the country's financial system. However, senior bondholders, according to the EU rules, have to share the cost of helping the troubled banks.
"The bail-in instrument will apply for senior bondholders, whereas the bail-in of depositors is explicitly excluded," he added. Recapitalization of Greek banks is scheduled for the fall, according to Dijsselbloem.
READ MORE: €86bn loan over 3 years: Eurogroup agrees to launch third bailout program for Greece
On Friday, eurozone finance ministers gave an expected green light to a third bailout program for Athens. Greece will receive €86 billion over the next three years, with the first €26 billion expected this week.